Seychelles is an island nation located in the Indian Ocean. Spanning an archipelago of 115 islands, this beautiful country is about 1,500 km to the east of the African continent. The tropical climate is quite humid.Seychelles is well-known for its amazing marine life and large seabird colonies.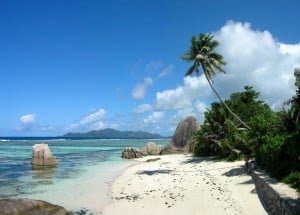 (By Tobias Alt, Tobi 87 (Own work) [GFDL (http://www.gnu.org/copyleft/fdl.html) or CC-BY-SA-3.0-2.5-2.0-1.0 (http://creativecommons.org/licenses/by-sa/3.0)], via Wikimedia Commons)
Here is a brief overview of the best tourist attractions in Seychelles.
Victoria 
This port city is the capital of Seychelles. Located in the island of Mahe, this city is located in the northeast part of the island. The Victoria National Museum of History, Clock Tower, the Victoria Botanical Gardens and Courthouse are some tourist attractions in the city.
 Mahe Island
Mahe is the largest island in Seychelles. It is also the economic and cultural hub of the country. It is well-known for its beautiful beaches, national parks and awesome mountains.Seychelles International Airport, which is located here, is well-connected with the rest of the world.
 Praslin Island
Enlisted an UNESCO World Heritage Site, this island offers stunning beaches like Anse Lazio and Anse Georgette to its visitors. Vallee de Mai Nature reserve is located in this island.
 Vallee de Mai
This nature reserve is a UNESCO World Heritage Site. Located in the Parslin Island, it houses rare species of flora and fauna. The Coco de Mer plant located here has the largest seed for any plant. You can find many mammals, reptiles, crustaceans and rare birds like the Seychelles Black Parrot.
 Ste Anne Marine National Park
This park comprises six small islands. Snorkeling, glass bottom boat excursions and scuba diving among coral reef are hugely popular activities among tourists. You can also find a large sea-grass meadow here. Fishing and water skiing are forbidden in this national park
 St Paul's Cathedral
This cathedral is a prominent landmark in Victoria and stands as an example in the Seychelles island of a colonial cathedral with a single nave. It is also the Diocese of the Anglican parish church of Victoria.
 Sir Selwyn Clark Market
Here you can find fresh fruits, vegetables, fish and many crafts. You can find varieties of ship models and fine jewelry. It is an ideal place to pick up a souvenir for your visit.
Seychelles
Seychelles is a beautiful country. Trip to this tropical island paradise is bound to be refreshing and a memorable one.
If you are a frequent traveller or enjoy blogging about your holidays and other subjects and would like to make money doing so Click On The Link Below

(Visited 288 times, 1 visits today)