Vacation is a great way to relax, rejuvenate and refresh your body and mind. At the same time, a vacation can be expensive. Fortunately there are amazing holiday destinations that do not empty your bank account. Benidorm is one such cheap holiday destination. Benidorm cheap holiday is popular worldwide.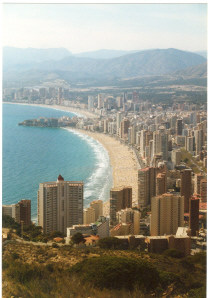 Benidorm is a coastal town located in Spain. What was a small village in the 1960s, is today a major tourist attraction in the Western Mediterranean region. Benidorm is well-known for its beaches, amazing hotels and vibrant nightlife. In fact its skyline comprises of its hotels and apartment buildings. It has the most high rise buildings per capita in the world.
Many tourists from the UK, Belgium, Germany, Ireland and the Netherlands visit Benidorm because it is amazing and also not very expensive. Many companies offer package holidays to this wonderful location.
Benidorm is well-known for its vibrant nightlife. Its pubs, bars and clubs pump out music until the early hours. Many free cabaret acts begin around 9 pm and continue into the early hours. You get many opportunities for recreation in Benidorm during the night hours.
Benidorm also attracts families. Tourists who visit this city with their family members usually prefer its three amazing beaches: Playa de Poniente, Playa de Levante and Playa de Mal Pas. You can do so many things in these golden sandy beaches. They offer plenty of water sports opportunities. These beaches are well-maintained. In fact they all have a blue flag (certification by the EU for maintaining high standard).
Benidorm offers many opportunities for family fun. You will find many theme parks. Aqualandia (water park) and Terra Mitica (amusement park) are prominent among them.
Many seniors from the northern part of Europe spend the winter months in Benidorm. You will find many tourists relaxing in the city's peaceful parks, or indulging in delicious cuisine offered by reputed hotels.
If you want to experience authentic Spanish culture, you need to visit the OldTown. Here you will find white houses, a maze of cobbled streets and a blue-domed church. The OldTown has its own charm. A walk around this amazing place can be an exhilarating experience.
Hotel Gran Bali is a great place to stay in Benidorm. It is the tallest hotel in Europe. It is also close to the OldTown. This hotel is ideal if you are seeking affordable all-inclusive accommodation. If you are looking for star hotel, you have Marconfort Flamingo Benidorm Aparthotel (3-star) and Sandos Monaco Hotel and Spa (4-star).
Euro is the currency used in Benidorm. You need to beware of exchange scams. Always deal with authorized businesses. Also beware of scratch care scams. Keep your money safe from pick pockets. Avoid getting into argument in clubs, bars and pubs, especially during the night hours.
Benidorm cheap holiday destination ensures that you get your money's worth. It is a safe destination compared to many other cities worldwide. Your stay in Benodorm is sure to be etched in your memory for a long time.
(Visited 49 times, 1 visits today)