HOW TO NOT GAIN WEIGHT DURING TRAVELLING
Traveling around the world definitely has a lot of perks to it, such as meeting new people, you experience a new culture, it broadens your horizon, widens your perspective of the world etc.
However, there are also some cons of traveling such as potentially gaining weight due to lack of exercise, indulging too much in the local cuisine, drinking too much alcohol etc.
You're probably wondering how we can minimize these negative factors while still enjoying ourselves to the fullest possible.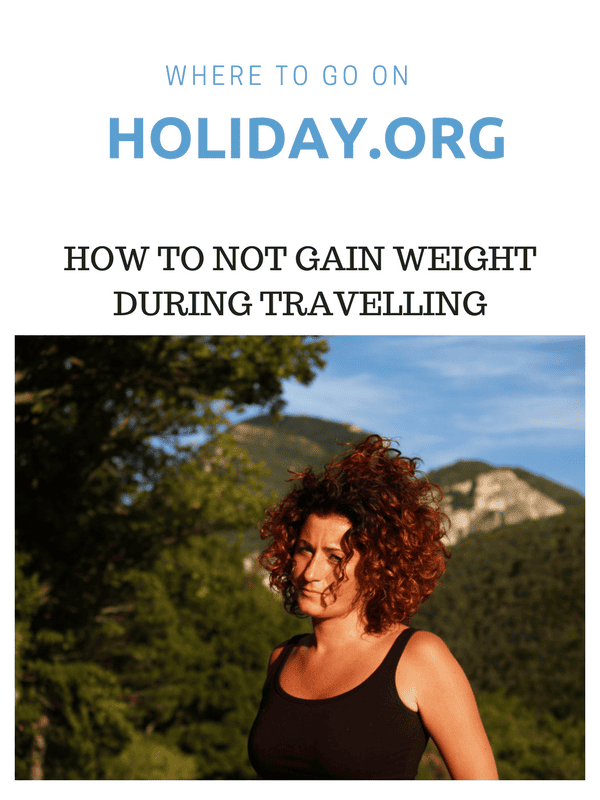 Here are some tips and trick you could use to still keep in shape during traveling.
1) CHOOSE HIGHER PROTEIN FOODS
When you go out to eat always choose foods which are high in protein. Protein is extremely helpful when it comes to dieting as it has extremely high satiety levels as shown in this study (https://www.ncbi.nlm.nih.gov/pubmed/15466943 ).
And as you can imagine feeling full is one of the most important factors when it comes to managing body weight.
Alongside feeling more full, protein actually helps with burning more of the total body fat and trunk fat when calories are restricted as shown in this study (https://www.ncbi.nlm.nih.gov/pubmed/22691622 )
2) CHOSE LOW-CALORIE DENSITY FOODS
Calorie density can be described as how many calories a certain food contains per gram of food. The more calories it contains, the more calorie dense it is.
Obviously choosing low-calorie dense foods is optimal for keeping higher satiety levels and preventing fat gain.
The best low-calorie dense options are fruits, vegetables, low-fat dairy products, leaner cuts of meat etc.
3) BE MINDFUL OF ALCOHOL OPTIONS
Staying completely away from alcohol drinking is of course for most of us, simply put not realistic.
So what should you do if you plan on drinking?
If you want to minimize fat gain you should:
Avoid adding sugar beverages to your alcohol (like adding fruit juice to vodka for instance).

Avoid cocktails as they are filled with sugar.

Avoid eating high-fat foods after drinking as alcohol consumption temporarily inhibits fat oxidation (or "fat burning") as shown in this study (

https://www.ncbi.nlm.nih.gov/pubmed/3280601

 ).
4) INCORPORATE SOME EXERCISE
I don't know about you, but I love to exercise. If you aren't of the same opinion, that's unfortunate, however, you should still try to incorporate at least some exercise while traveling to burn more calories.
Remember, the more you exercise, the more you can, in turn, eat and drink.
There are many "sneaky" ways of incorporating exercise into your traveling program such as taking hikes, traveling around with a bicycle rather than a car, going for a long swim if you are near a beach etc.
You could also do some bodyweight or resistance band exercises (link to https://www.masswithclass.com/best-resistance-band-exercises/ ) which do not require a lot of room, just some will to exercise and some imagination.
5) SAVE YOUR CALORIES FOR LATER
Most people ingest too many calories in the evening/at night when they go out to eat and possibly follow that up with some drinks afterward.
I have already mentioned how to minimize fat gain through proper food and alcohol choices, but there is another alternative where you actually don't have to hold back from eating everything you want.
This alternative involves doing a short fast throughout the day or eating very small protein based meals throughout the day and then going "all out" at night. Eating little throughout the day will leave you with a lot of calories to play with at the end of the day and you will be able to eat and drink your favorite foods and drinks without restricting yourself.
CONCLUSION
Travelling is fun, but gaining unnecessary weight while travelling isn't.
Follow the above-mentioned tips and you'll minimize fat gain as much as possible.
ABOUT THE AUTHOR
Matjaž is a personal trainer and has BSc in Food Technology and Nutrition.
Currently, he is also attaining his Master's degree in Sports Nutrition.
He promotes a healthy lifestyle and helps people achieve their fitness goals.
He regularly writes about exercise, nutrition and supplement tips on www.masswithclass.com
(Visited 137 times, 1 visits today)