The best places & cities to visit in Spain.
When you visit Spain you have numerous options to choose from, from Madrid's cafes, museums and boutiques to Barcelona's iconic architecture and sunny beaches. Spain has some of the best places to visit in the world, and it's no surprise that nearly 76 million tourists visited Spain in 2016 alone. Spain is a great place to visit if you just want to relax. Sit on the beach and get a tan, visit a museum and see some of Spain's historic sculptures, even visit a cafe and just watch the time fly by. Here are our favourite places to visit in Spain.
                   Our Favourite Places to visit in Madrid
Museo Del Prado
The Prado Museum is widely considered to have the world's finest collections of European Art, dating from way back in the 12th century up until the 20th century. It is also known for having the single best collection of Spanish Art. Founded in 1819, it is now known for being one of the best art museums in the world, with a collection of over 15,000 different paintings, sculptures, and prints. The museum received nearly 3 million visitors in 2012 and is ranked 18th globally in the number of visitors each year. Museo Del Prado is an amazing museum for anybody to visit, with its massive variety of different arts and exhibitions, and I highly suggest you visit it. Especially lovers of fine art.
2. Cafe Murillo
Cafe Murillo is located right behind Museo Del Prado, and it's a convenient and cosy spot to eat some lunch and have a coffee. A lovely little place with a nice interior to rest in. There is a wide range of food (for a cafe), including cakes, hot drinks, roast chicken, burgers, and even vegetarian meals. Perfect to take your kids to.
3. La Sanabresa
La Sanabresa is a very popular place for locals and tourists alike, but it is a quaint little place. With only three servers (with one being the owner) to attend to the entire restaurant, it is a very homely place with over 30 different tasty, inexpensive and well-liked foods. Another great little restaurant to take your kids too, with a lovely atmosphere and very attentive servers.
4. Buen Retiro Park (Park of Pleasant Retreat)
The Buen Retiro Park is one of the largest parks in Madrid, which was owned by the Spanish monarchy until the late 19th century when it became a public park. Created in 1680, it is one of the biggest parks in Madrid, with picturesque views, magnificent sculptures and monuments, and a large peaceful pond. (known as the Retiro Pond.)  Buen Retiro Park is a place where you can bring a picnic, sit on the massive lawn with the view of the garden, and eat in complete peace. You can also play sports, such as rollerskating, jogging, cycling, and even sailing in the serene water. A lovely place to go for anybody, especially large families that just need a break from all the buzz of the main city.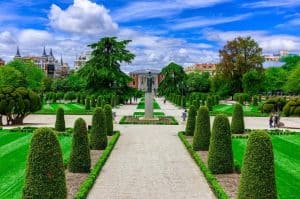 Our Favourite Places to visit in Barcelona 
1. La Boqueria
La Boqueria is a large public market and one of the city's most revered tourist landmarks and it was mentioned as early as 1217. The market has a very diverse selection of goods, from a massive amount of fresh fruit, vegetables, meat, fish, to nuts, spices, and many other dry ingredients. There are also dozens of bars, cafes and restaurants to visit. This is a great place to go with the family to get some great quality food, and just for a day out to see how some of the tourists make their living!
2. Montserrat
Montserrat (not to be confused with the Carribean Island) is a rocky range with multiple different peaks. The highest peak is called Sant Jaroni, and it is a staggering 1236m in height. There are two other main peaks known as Montgros (1120m) and Miranda de la Agulles (903m). It is the site where the Benedictine Abbey is located, and it is supposedly the location of the Holy Grail in Arthurian myths. You can get to the Benedictine Abbey by car, cable car, or the Montserrat Rack Railway. The highest peak is accessible by multiple hiking trails across the mountain, some easier than others.
3. Barcelona Museum of Contemporary Art
The Barcelona Museum of Contemporary Art opened to the public on November 28, 1995. It has a large collection of over 5,000 works from the 20th century onward, and the collections mainly focus on post-1945 Spanish and Catalan art. It has a shop and cafe as well as the fabulous art that is on display in the massive building.
4. Sagrada Familia (Church of Holy Family)
Sagrada Familia is the largest Roman Catholic Church in the world. But it is not finished. It was designed by Catalan architect Antoni Gaudi and the foundations were laid in 1882. Currently, only 70% of the Basilica is finished and the six central towers are being worked on. The Sagrada Familia is supposed to be finished in 2026, but tourists can still visit it and it is one of the most popular places in all of Spain. When you visit the Sagrada Familia, you can see all the different tours, from Gaudi's work and life to an autoguided visit.
                     Our Favourite Places to visit in Valencia 
1. L'Oceanografic
L'Oceanografic is an oceanarium where many different marine lives are represented. It was designed by Felix Candela and it was opened on the 14th of February 2003. L'Oceanografic is the largest oceanarium of its type in the world. It has a surface area of 110,000 square metres and a water capacity of 42,000,000 litres. There are many different attractions to see, such as the dolphinarium, and massive ocean tanks with hundreds of other fish, ranging from sharks, to penguins, to seals, to stingrays. There are over 45,000 animals of 500 different species and  the park is divided into ten areas (including an Arctic area, Mediterranean area,  and a Red Sea area.)
2. Valencia Bioparc
 Valencia Bioparc is a 25-acre zoo which is owned by the City Council of Valencia. It opened on February 28th, 2008 and it is known for having a massive collection of Fauna. It is an innovative zoo with barriers that the animals struggle to see, and they are put in an area that is just like their dwelling in Africa. This Zoo is known for bringing the visitors totally into the natural habitat of the animals. Valencia Bioparc has a big range of fantastic animals, Leopards, Lemurs, hyenas, lions, gorilla, giraffes… The list goes on. This place is a great place to go for adults and kids alike, with many different exhibitions that children will love.
3. Museo de la Almoina (Archaeological Museum of l'Almoina)
The Museo de la Almoina was inaugurated in 2007. This is a museum that has exhibitions of large sets of archaeological pieces from various times in history (Roman, Visigoth, Arab,)  It shows how the city was founded by the Romans over 2000 years ago, and it has exhibitions from the remains of buildings, baths and other Roman architectural works of art.
4. Mestalla Stadium
The Mestalla Stadium is the home ground of the Valencia football club (Valencia Club de Fútbol). The stadium was built in 1923 and it has a capacity of nearly 50,000 seats. It was one of the venues of the 1982 FIFA world cup. It a great place to visit for any Valencia Football club fans or footballers alike.
Thank you for reading through the best places & cities to visit in Spain!
The best places & cities to visit in Spain.
(Visited 162 times, 1 visits today)