If you haven't visited Germany yet, you're in for a culinary surprise. No matter how many times you've tasted schnitzel and saukerkraut at home, the German traditional versions are so much more delicious! Sharon Preston visits Germany regularly on business. Here she gives us an idea of what to sample next time your'e on holiday in Germany…
Knodel
These traditional German dumplings originated in South-eastern Germany. They are made from potato, semolina, flour or bread, rolled into a ball shape and boiled or steamed in salt water. Germans love dumplings and eat different varieties with most meals. They can be served as a main meal, a side dish, dipped in soup, or even as a dessert. Savoury Knodel are traditionally served as an accompaniment to roast meat or poultry, or in veal or beef stews.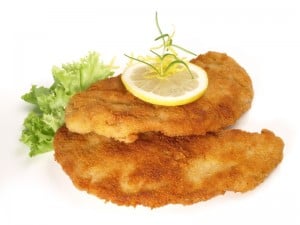 Schnitzel
Yes, we know you've tasted schnitzel. But the real McCoy, the German version, is a little bit different from a thin escalope of veal, chicken or beef coated with flour, egg and breadcrumbs and fried in butter or oil. Veal schnitzel, called Wiener Schnitzel, actually hails from Austria, but the German versions are a little different. In Germany you can enjoy run-of-the-mill schnitzel, but you can also enjoy Schweine-Schnitzel, which is a breaded pork loin cutlet, Puten Schnitzel, made with turkey breast, and Hanchen Schnitzel, made using boneless chicken breast. Restaurant portions are usually huge and schnitzel is accompanied with fries, red sauerkraut, German potato salad, asparagus or other vegetables.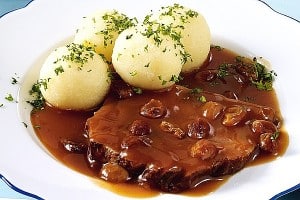 Sauerbrauten
Sauerbrauten literally means 'sour roast'. It's a classic German potroast made from a variety of meats, usually beef, but also lamb, pork, venison or horsemeat. Its sour flavour comes from being marinated for several days in a mixture of vinegar, wine, herbs, spices and seasonings. The dish is traditionally served with red cabbage, knodel (dumplings) and apple sauce, though sometimes spatzle (noodles) or boiled potatoes are used instead. There are several regional varieties – their difference is usually in the marinade.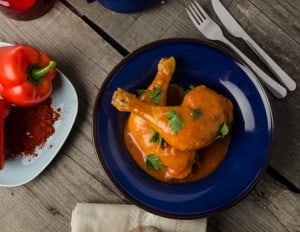 Hendl
Chicken, or Hendl, as it's called in Germany, is traditionally served grilled, marinated with pepper and other spices. It's very popular in most restaurants and is served with fries or a choice of other vegetables. Another classic German dish using chicken is Paprika Hendl, Chicken Paprika, made using chicken, cream and paprika. It's usually served with spatzle (noodles) or potatoes.
Spatzle
Every country has its version of pasta or noodles, and Spatzle is Germany's. They are an important ingredient in many classic German dishes and are made from flour, water, salt and eggs. These curly noodles range from yellow to white depending on how much egg is added. In autumn and winter, they're served as an alternative to potatoes with roast or braised meat, poultry, game or beef rolls. They are popular in local German homes as well as on menus in German restaurants.
Brezel (pretzel)
Wherever you go in Germany, you'll find these tasty dark brown snacks, crispy with a salt crust on the outside, or sesame seeds, sunflower or poppy seeds, and a soft dough inside. Pretzels have a unique shape and each region has its own version of that shape. To this day, Brezel or Pretzels, are handmade by bakers who have perfected this traditional craft. They are served as a snack anytime, and you can buy them at bakeries or street stands.
Currywurst
Germany's favourite fast food is Currywurst, a boiled, fried or grilled sausage cut into pieces one inch thick and topped with a combination of tomato paste, curry powder and paprika. They are traditionally served with a roll or fries. The snack originated in Berlin.
Schwarzwalder Kirschtorte (Black Forest Cherry Cake)
Famous throughout Germany, although it originated in the Black Forest Region, Black Forest Cherry Cake is a real treat. Its made of four layers of chocolate sponge cake sandwiched together with cherries and whipped cream flavoured with Kirschwasser (cherry schnapps). It's also covered with whipped cream, chocolate shavings and a few fresh cherries.
(Visited 501 times, 1 visits today)