Turkey is a democratic country located in west Asia. It is a transcontinental (Eurasian) country. Turkey has a diverse landscape, culture and climate. Ankara is the capital of Turkey and Istanbul, Bursa, Adana and Konya are some of its important cities.
Blue mosque
Located in Istanbul's main square,Turkey, the Blue mosque is a beautiful structure with six minarets. Usually mosques have one, two or four minarets. The Blue mosque's cascading domes dominate the city's skyline.
Mount Ararat
Mount Ararat is a snow-capped mountain in Turkey. Located in eastern Turkey, it is the highest peak in the country. Experts believe that it is the largest single-mass mountain in the world.
Hagia Sophia
Hagia Sophia was built to be an orthodox patriarchal basilica. It was later converted to a mosque. Currently it is a museum. Located in Istanbul's main square, this beautiful structure stands as an example of Byzantine architecture.
Turkish Riviera
Also known as the Turquoise Coast, this region comprises Antalya, Mugla, few provinces of Aydin, southern Izmir and western Mersin. Amazing beaches, wonderful climate, archaeological centers and biodiversity attract many tourists to this region. The famous Mark Anthony of the Roman Empire is believed to have chosen this region as a gift for Cleopatra.
Goreme Fairy Chimneys
Gerome is a is a town in Cappadocia. It is located among amazing natural rock formations were formed as a result of wind and water erosion of two different volcanic layers. The Goreme National Parkis a UNESCO World Heritage Site.
Oludeniz
This small village is located on the southwest coast of the Aegean Sea. The secluded sandy bay at the mouth of Oludeniz (on a blue lagoon) is a veritable paradise on earth. Paragliding is a popular activity here because it allows you to enjoy the scenic beauty of the area.
Aspendos
This ancient Roman theater is magnificent. It has a diameter of around 100 meters and can seat around 7,000 people. The ruins of the agora, the aqueduct and the stadium are other attractions in the region.
Pamukkale
Located in western Turkey, this city is famous for its white terraces. Pamukkale means "cotton castle" in Turkish. You can find hot springs here. People have bathed in its pools for centuries.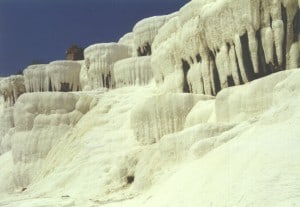 (By Patrick-Emil Zörner (Paddy) Paddy 14:40, 17 August 2005 (UTC) (Own work) [CC-BY-SA-2.0-de (http://creativecommons.org/licenses/by-sa/2.0/de/deed.en)], via Wikimedia Commons)
Turkey is a wonderful country. Visit to the above-mentioned Turkey tourist attractions is sure to be an enriching and a refreshing experience.
If you are a frequent traveller or enjoy blogging about your holidays and other subjects and would like to make money doing so Click On The Link Below

(Visited 35 times, 1 visits today)