Mexico is the land of the Mayas and the Aztecs. It is well-known for its beautiful beach resorts and Corona beer. It is located in the south part of the North American continent. The weather is diverse in this beautiful country. The country is also known for its biodiversity.
Here is a brief overview of some popular tourist attractions in Mexico.
Cancun 
Cancun is a beautiful city located in southeast Mexico. You can find beautiful beaches and the world's second largest coral reef here. Mayan ruins, the National Marine Park, Tulum, Xcaret Eco Park and Riviera Maya are some tourist attractions of this beautiful city.
Pyramids of Teotihuacan 
The ancient city of Toetihuacan is the most visited archaeological site inMexico. The Pyramid of the Sun is the third largest pyramid in the world. You need to be prepared for plenty of walking and climbing here.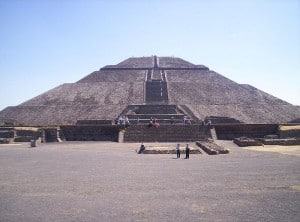 Cozumel 
Cozumel is an island located off the eastern coast of Mexico's Yucatan Peninsula. You can indulge in activities like scuba diving and snorkeling here. Many expert divers consider this to be one among the best diving sites in the world. It is well-known for its beautiful coral reef and a huge variety of tropical fish.
Guanajuato 
This beautiful colonial city is nestled in the mountains of the Sierra de Guanajuato. The city was founded in the 16th century right next to the silver mines and is well-known for its beautiful haciendas and attractive colonial buildings.
Copper canyon 
This group of canyons comprises six distinct canyons in the Sierra Tarahumara. It is larger than the Grand Canyon of the US. All six rivers in the canyon merge into the Rio Fuerte and empty into the Sea of Cortez.
Los Cabos 
This is a municipality located in the southern tip of Baja California Peninsula. This region is famous for its beautiful white sandy beaches and sophisticated resorts. Water sport aficionados and whale-watchers will love Los Cabos.
Acapulco
This resort town is a popular spring break destination. You can enjoy the performance of many cliff divers here.Acapulco attracts many Hollywood celebrities and other millionaires.
Mexico is a beautiful country with rich cultural heritage. It offers something or the other for tourists belonging to all age groups. Visit to the above-mentioned Mexico tourist attractions is sure to be a memorable one.
If you are a frequent traveller or enjoy blogging about your holidays and other subjects and would like to make money doing so Click On The Link Below

(Visited 49 times, 1 visits today)