Austria now represents better value for money than the most popular resorts of the French Alps.
Everything from basic holiday costs, lift pass, ski school, eating out and partying usually costs less in Austrian resorts compared to the French Alps. Moreover, the standard of service is higher, the welcome is warmer, and lift systems are no less sophisticated.
Best ski resorts for beginners in Austria is Alpbach
Alpbach has a population of 2,600 and occupies a beautiful location on a sunny plateau at approx. 1,000m above sea level. Thanks to its homogenous architectural style and lovely floral decorations Alpbach was voted "Austria´s most beautiful village" and also "Europe´s most beautiful flower village".
Alpbach offers everything you need for an unforgettable Winter holiday, including 145km of groomed runs set against a cobalt blue sky, 20km of immaculate cross-country skiing trails in scenic surroundings, untracked powder slopes for ski mountaineers and cleared Winter hiking trails. Other popular winter activities include walking, tobogganing, skating, curling, Paragliding, and more.
Contact:
Information Alpbach
Dorf 175
A- 6236 Alpbach, Österreich
Tel.: +43 (5337) 21200 30

Fax: +43 (5337) 21200 100

Email: alpbach@alpbachtal.at
Opening hours:
Summer: Mon-Fri 8.30am-12.30pm & 2pm-6pm & Sat 8.30am-12.30pm
Winter: Mon-Fri 8.30am-12.30pm & 2pm-5.30pm
OFF-PEAK SEASON (mid-April – mid-June) closed on Thu afternoons!
OFF-PEAK SEASON (October – mid-December) Closed on Thus ans Sats

 !
Best ski resorts for families is Obergurgl
If you're taking young children to the Alps you want guaranteed snow cover at village level throughout a long season. At 1,930m, very high for a resort at the eastern end of the Alps, Obergurgl happily obliges.
You also need a short transfer and a low-risk environment. The traditional village is set around a fine church, an easy one-hour drive from Innsbruck. There's no through traffic and the ambience is essentially family-friendly.
The resort attracts a loyal band of regulars, who love its low-key atmosphere and well-run, traditional hotels and scattering of chalets.
Obergurgl sits at the head of the Otzal Valley, a mere 90 minutes from Innsbruck and just 20 minutes from the larger resort of Sloden. Over 110 km of immaculate pistes offer good intermediate skiing and beginners should also find enough to keep them occupied for a week. Advanced skiers may have to look for the off-post after a while or make the short journey to Solden after a few days to keep them happy. On the plus side, Obergurgl has an excellent snow record and there are, rarely any lift queues. The village, if you can call it that, is small and quiet. Not the liveliest of resorts, but if it is the snow you came from, then there is enough to feed and water you in the resort. If you get bored at Obergurgl, get a taxi to Solden which is much busier.GURGLERSTRASSE 118
LIFT COMPANY OBERGURGL-HOCHGURGL
GURGLERSTRASSE 93
6456 OBERGURGL
T: +43 (0) 5256 6396
F: +43 (0) 5256 6382 72
E: BERGBAHNEN@OBERGURGL.COM
Best ski resorts for partying is Ischgl
Ischgl is Austria's second most important resort.It ofers   full-throttle nightlife and high-quality intermediate pistes. If you like your après as much as your sking, and think you might be too old for St Anton, then put it on your hit-list.
It's a paradoxical place. The accommodation is mostly upmarket and more expensive than in many resorts. The clientele tend to be at least 10 years older than the twentysomethings who pack into the Mooserwirt above St Anton. But that doesn't stop the Ischgl crowd from climbing on the tables and partying as if it were their last day on Earth.
From 3.30pm, the atmosphere is electric. It's also wonderfully good-natured.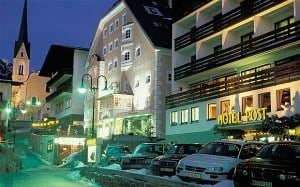 Contact 
Info: +43 / 5444 / 606
Tariff information: +43 / 5444 / 606 – 200
Piste rescue service: +43 / 5444 / 606 – 600
Fax: +43 / 5444 / 606 -118
E-Mail: office@silvretta.at