The purpose built, very snow sure resort of Avoriaz is the highest in the huge Portes du Soleil – the world's largest international linked ski area, and, being traffic-free, appeals to families as well as to skiers and boarders of all abilities.
In 2012, it won the Best Family Resort in the Snow Awards, justifying its reputation as family-friendly, as well as appealing to skiers and boarders of all abilities.
The whole resort is traffic-free and easily accessible whether on skis or on foot. There is a wide choice of shops, restaurants and bars with a varied selection of nightlife.
The high altitude and north facing slopes have proven to be a great combination for an impressive snow record over the years. The resort is at the centre of the massive Portes du Soleil ski area, boasting a combined total of over 650kms of pisted  runs stretching across both France and Switzerland.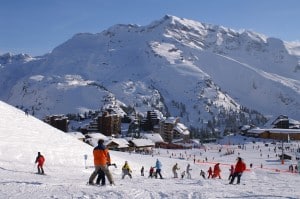 Beginners on ski holidays in Avoriaz are well catered for, with the area offering easily accessible runs, to help gradual progression. Ski holidays in Avoriaz are heaven for intermediates, to best explore the area remember to bring your passport with you! There are huge opportunities to criss-cross the French/Swiss border and many long cruising runs.
The infamous "Wall" at the top of the Chavanette drag lift is one of the world's toughest black runs, boasting waist high moguls across a vertical drop of over 300 metres, which is certainly the highlight for advanced skiers on ski holidays in Avoriaz. Alternatively, the World Cup downhill piste and the endless off piste opportunities make a great date for thrill-seekers. Avoriaz is renowned as a mecca for snowboarders, providing several superb snowboard parks, and has challenges for all levels of rider.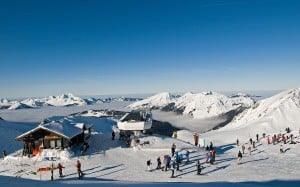 The appeal of Avoriaz to a younger international crowd shows in its usually lively après ski scene. Along with the restaurants there are ten bars which include a pub and a piano bar; there's also a live music bar and a night club. The Place and Wild Horse Saloon are good for live music, and for nightclubbing Le Yak. La Cabane and the Globetrotters Bar are also popular.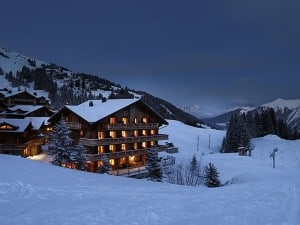 As you are in the centre of the Portes du Soleil you have a vast choice ahead of you every morning. This is in one respect the 'largest lift linked area in the world' with 650 km (407 miles) of trails. On the other hand this claim isn't quite as solid as the other area that makes it – the Trois Vallées – which only claims 600 km  (375 miles) but does have it all totally linked, whereas at a few key points in the Portes du Soleil you may have to slip your skis off and hop on a bus to make a link. That's all rather petty though really, because the terrain is vast by any means of measuring it and the snow record is good, helped by the proximity of Lake Léman which seems to pull in some of the best and most regular snow in the region. So the first choice of the day, if you want to bother deciding, is whether to stay local or perhaps take a tour.
This beautiful spot in the world is home to a fantastic range of ski accommodation.So If you are wondering where to go on your next ski holiday ,Avoriaz is really worth visiting.
(Visited 320 times, 1 visits today)