Top Places To Visit In Northern Ireland
When it comes to Northern Ireland our weather certainly may not be the best in the world, but there are still a few things we can be sure of.
One of the great things about Northern Ireland is it doesn't need to be a perfect day when it comes to visiting our attractions as we are generally well prepared for the rain..
Here Are A List Of A Few Places You Should Definetely, Visit Or Things To Do When You Come To Visit Northern Ireland.. 🙂
1. Portrush – Via Torr Head And Antrim Coast.
One of my favourite places to drive is the coast road to Portrush and if you happen to get a nice sunny day then the views are amazing.
2. Mount Stewart – On Portaferry Road in Ards Peninsula.
Mount Stewart is a lovely place to visit there are also visits inside the house, but only during certain months of the year so would be an idea to find out when it will be open before visiting.
3. Ferry From Portaferry To Strangford.
You can drive from Newtownards or Bangor along the coast to Portaferry when you get there, then drive onto the ferry and go across to Strangford. From Strangford you are not very far away from Downpatrick, Newcastle and lots of other places that are in or around that area.
4. A Visit To Slieve Donard Park In Newcastle And A Hike Up The Mourne Mountains.
This is a lovely location for a walk up the mountain along the stream or is also really good for mountain biking with some crazy downhill paths on the way down. ( Not For Novice Mountain Bikers)
5. A Visit To Murloch Nature Reserve In Newcastle.
Again Murloch Nature Reserve is a nice place to go for a walk and you have the lovely view of the sea and the Mourne Mountains as well.
6. Visit To Tollymore Forest Park In Newcastle.
Definitely worth a visit 🙂 It is one of the best kept secrets around  Mourne  Slieve Dorard Area. It is known for it's outstanding beauty. It is a place to relax, camp and take lots of pictures of the beautiful and wild natural surroundings. You have may be heard about from the movie "Game of Thrones" . It's scenic views are good enough for a multi million production, but also a remarkable place for a nice long walk.Enjoy!
7. A Walk In The Silent Valley 15 Miles Outside Newcastle.
You have to walk in Silent Valley, to understand why it is called Silent Valley (Highly recommended one of my Favourite places)
8. A Visit To Scrabo Tower In Newtownards.
This place was a few miles from where I used to Live, in Newtownards has a bit of history to it also worth a visit.As a part of the Scrabo Park the Tower can be seen from many places in the area. If you are a fan of incredible views and stunning a few hours in the park will create nice memories.
9. A Walk Around Grounds Of Stormont In Dundonald.
This is the location of Northern Ireland's parliament Buildings. As well as a picturesque place surrounded with beautiful trees the Stormbound grounds are popular among locals as a great location for taking a nice walk. If you are in the area of Stormont Estate I highly recommend you to stop and enjoy the surroundings.
10. Lunch Or Dinner In The Old Inn In Crawfordsburn.
"The Old Inn" is one of the oldest hotels in Northern  Ireland. It offers a unique venue for any occasion with it's original features. Located  in the  heart of the Crawfordsburn Country park "the Old Inn" is a comfortable and luxurious place to enjoy a nice diner or lunch in a tranquil settings.
11. Lunch Or Dinner Traditional Style In McBrides On The Square In Comber.
Comber is a very small town in Co.Down, but it would be a great place to stop for lunch if you are touring around County Down I highly recommend you to stop there for a nice traditional lunch. The staff are incredibly friendly and they will create a meal for your requirements. You will leave feeling well looked after.
12. Afternoon Tea In The Culloden Hotel Cultra In  The Drawing Room.
If have heard of any place in Northern Ireland you are very likely to have heard of the The Culloden Hotel  in Cultra. Nicely located on the slopes of the Holywood hills, overlooking the Belfast Lough the Culloden Hotel is a perfect location for an afternoon tea. The Drawing room has a unique set up and a very informal and relaxing way to spend a few hours of your afternoon. It is also nice in a late evening after a long busy day.
13. A Visit To Belfast Castle On The Antrim Road Belfast.
Belfast Castle is located on one of the highest spots in Belfast. apart from amazing surroundings you will also enjoy breathtaking views. You will feel inspired by the beautiful gardens and breathtaking views. If you are in Belfast, Belfast castle is a place to visit and enjoy.
14. A Visit To The Ulster Folk And Transport Museum In Holywood
You have all heard of the Titanic , but going to the Ulster Folk And Transport Museum In Holywood will expand your knowledge about transportation in Ulster. It is a wonderful place to visit with the family, if you have young children as the all the areas are child friendly and the all the outdoors offer lots of space for them to run about and enjoy. As well as an indoor and outdoor museum the place is also very popular for seasonal venues where you can join in and enjoy.
15. A Visit To The Ulster Museum In Belfast.
Ulster Museum is the National Museum in Belfast  and it's located in Botanic gardens. It explores modern history  and art. It is a free place to visit and if you happen to be here in a rainy day it would make a good day out. If you are interested in history I highly recommend you to visit it.
16. A Walk Around Lady Dixon Park Off Upper Malone Road In Finaghy.
This is a place to visit in the summer. Remarkable garden with incredible collection of roses and plants this parks is one of the most popular parks  in Northern Ireland. There are rolling meadows, wild woodland and it is also a home of a wide range of animal and plants. The park also contains camellia trials, Japanese-style garden, walled garden with water features which are ideal for some quiet time.
17. The Marble Arch Caves In County Fermanagh.
The caves are a rare gem and a place to truly create memories with your loved ones. Make sure you book in advance to ensure all the weather conditions are in order. Visiting a cave might me a daunting activity, but once you get there it's worth every effort. The caves themselves are of unknown age but date back in part over 380,000 years and if you are interested in stones and glaciers is a must see place.
18. A Visit To Delamont Park Near Downpatrick.
Delamount park offers stunning views across the Lough to the Mourne Mountains. It is a perfect place to visit with the family. During the summer there are activities for everyone to enjoy, including a trip around the park in a mini train, outdoor adventure playground, BBQ area, boat trips along the Lough. Spending a few hours in the park of a whole day would be a day to remember for you and everybody in the family.
19.A Visit To The Odyssey arena Arena In Belfast And A Visit To W5.
The Odyssey arena is the biggest venue hall in Northern Ireland and a place where some of the most popular shows and presentations take place. During the day the arena is also a place with a good choice of restaurants, bowling room, but the most remarkable place is the Discovery centre at W5. This is a place for children to learn about almost anything in the most fun and interactive way.  As well as the paid interactive show, there is also a free season events for the family to enjoy.
20. A Visit To Carrickfergus Castle.
Carrickfergus castle is located in Carrickfergus and if you are coming from Belfast, may be on your way to Portrush you will enjoy taking a walk around it. There are also visiting hours so you can visit it inside. You can learn more about the history and spend a few hours in unique surroundings.
21. A Visit To Queens University In Belfast.
The Queens University is one of the most popular and beautiful buildings in Belfast. It's architecture is unique and it is one of the land marks of Belfast. The Lanyon Building located in the grounds of the university are open to anybody and you can enjoy exhibition by local artists.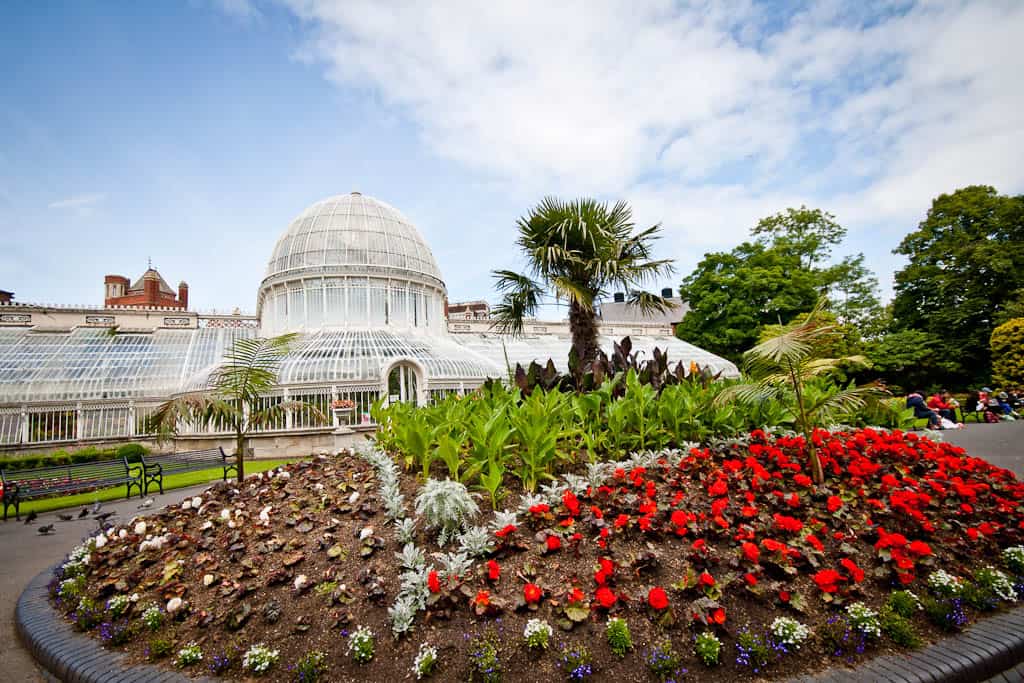 22. A Visit To Botanic Gardens In Belfast.
Botanic gardens is a home of many tropical plants and a wide collection of plants, that are unique and a must see. The gardens are also a venue for events, concerts and workshops. Highly recommended!
A Few Tips To Remember When Visiting Northern Ireland.
1. Things tend to get a bit heated in July most people from Northern Ireland Either Join In Or Leave On Vacation during this time.  So unless you are a fan of bands, drunks and bonfires you may want to avoid Northern Ireland at this time of year.
2. May And June normally, tend to have slightly better weather and can end up getting a few nice sunny days around this time of year.
3. Bring a raincoat just in case and keep an umbrella handy 🙂
4. Be careful there are a few areas of Belfast better to avoid just in case if in doubt ask the locals ..
5.Enjoy yourself and go with the flow!
Top Places To Visit In Northern Ireland
(Visited 365 times, 1 visits today)