Travelling From Ireland To  Switzerland By Car
When it comes to travelling one of my favourite ways to travel is by car.  The reasons for this is because I am not a big fan of travelling by plane.
As I do not like getting my belongings rummaged through and not being allowed half of your personal belongings.   One of the other added benefits of flying is getting radiated at the airport and having to wait hours between flights in long queue's not forgetting of course having to walk what seems like miles around an airport dragging your belongings around with you.
I will take going by car to Europe over the plane every time.  It is also a lovely trip to do with your family it's great for the kids being able to see the different landmarks and all the different languages and cultures.  It is a wonderfully eye opening experience for children and would recommend everyone does this trip with their family at least once in their lifetime.
When driving to Europe my two favourite places are Switzerland and Greece also Austria And Germany have some lovely sights to see. Driving through the Alps at night is amazing the lights of the cities in the valleys are awesome.   We stopped off at a hotel in Switzerland at about 2am in the morning was a long day driving the hotel was called Hotel Pilates.  It was lovely so comfortable had a lovely sleep but when we woke up in the morning opened the french doors it was a beautiful sunny day and we had nice decking looking out there was a nice boat and a beautiful lake surrounded by the Alps..  The views where absolutely breathtaking.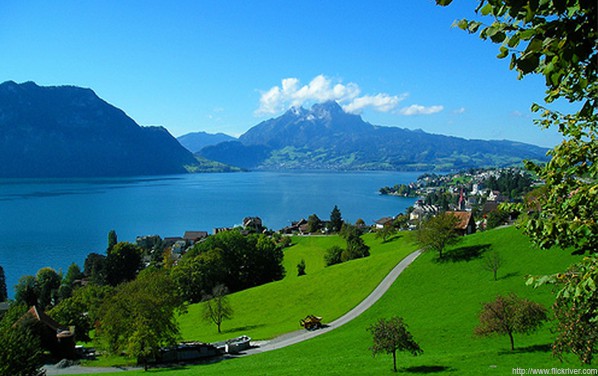 Really quiet and peaceful place with pastries, chocolates and desserts like nothing I had ever seen before.  People in many parts of Switzerland leave there cars unlocked because there is very little crime.
It is well  worth taking a trip to Hergotsvil to see the glass factory we also made a day trip to Zurich and went to one of the shopping centres there the food was absolutely amazing.  They also have an abundance of freshly squeezed fruit juices every kind of fruit juice you could possibly imagine was there. 🙂
Make sure you go in a nice reliable car we have been a number of times we went once in a VW Passat, A few times in a 7 seater Volkswagen Sharan and also we did the trip once in a campervan the campervan was great until we arrived in Greece with no air conditioning that was pretty crazy… But definetely a trip to remember too.  If you are thinking about driving too or around Switzerland by car don't think about it just do it.  The only thing is you will find many parts of Switzerland are very pricey for food and even basic groceries.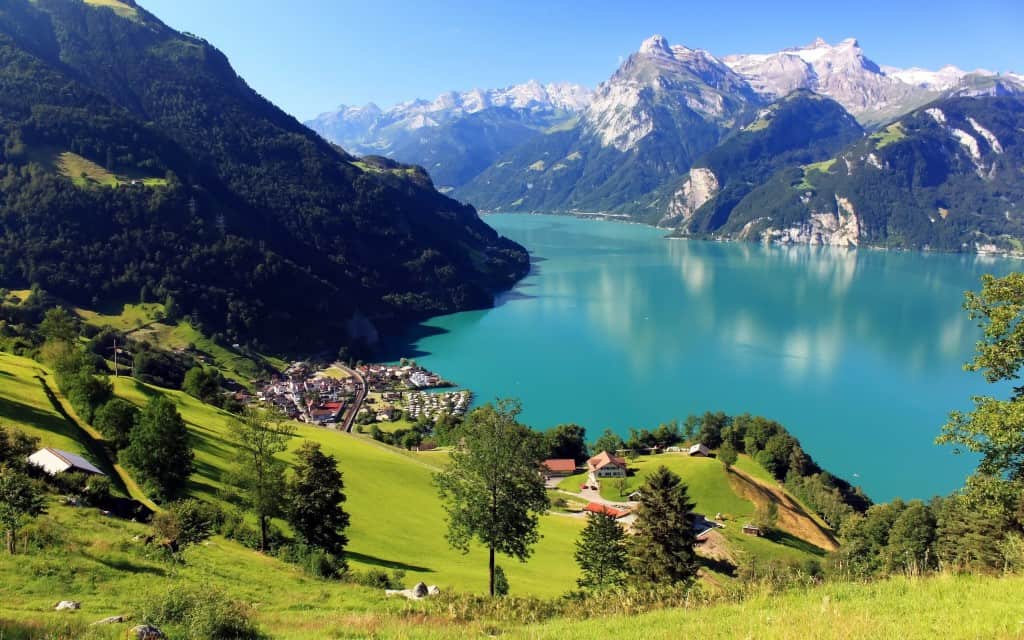 At the end of the day the stunning scenery lovely clean air beautiful food more than makes up for the expensive prices this is definetely one trip to mark in your Diary.
Hope to see you there 🙂
Travelling From Ireland To  Switzerland By Car
(Visited 252 times, 1 visits today)