A hundred thousand welcomes to Ireland's capital city, steeped in history and buzzing with youthful energy. Medieval, Georgian and modern architecture provide a backdrop to a friendly bustling port where the cosmopolitan and charming meet in a delightful diversity that is Dublin.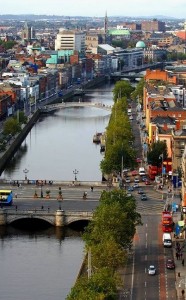 Dublin is the Ireland's most popular city which derives from the word "Dubhlinn" means "black pool".  Dublin is  ranked in the top 30 cities of the world.It is a dazzling and mysterious city. Ireland's capital is an energetic, varied and open city that welcome visitors of all types.
There are plenty of things, that you can do in Dublin and you are truly spoiled for choice.
There are many reasons to visit  Dublin and  here are some of the most popular locations. 
1. Let's start with the very modern Science Gallery. This is a unique building like no other.
A place where science and art collide
Science Gallery is a world first. A new type of venue where today's white-hot scientific issues are thrashed out and you can have your say. A place where ideas meet and opinions collide. Since opening in 2008, over one million of visitors have been to the Science Gallery.The Science Gallery has been ranked amongst the top ten free cultural attractions in Ireland.
For more information, visit the Science gallery website.
2.Dublin Castle is one of the oldest landmarks and monument and it is a exciting place to visit all year round. Dublin Castle is absolutely spectacular and a real ""must-see" .
In continuous occupation since its establishment in 1204 AD, Dublin Castle has played a prominent role in Ireland's history.Today, this prestigious city center site is host to state-of-the-art conference and dining facilities.The State Apartments are among the most prestigious State rooms in the country and are open for guided tours.For more information please visit the Dublin Castle's website.
3. Another "must -see" location in is "The Book of Kells at Trinity College" it is the most famous college of Ireland and was founded by Queen Elizabeth in 1592.Please watch this short silent video to just glimpse the outstanding building.
The Old Library and the Book of Kells Exhibition  is located in the heart of Dublin City, a walk through the cobbled stones of Trinity College Dublin will bring visitors back to the 18th century, when the magnificent Old Library building was constructed. Inside is housed the Book of Kells – a 9th-century gospel manuscript famous throughout the world. Visitors are welcomed by our friendly staff seven days a week.
4.After a busy and eventful day what better place to visit, while you are in Dublin, than the Temple Bar.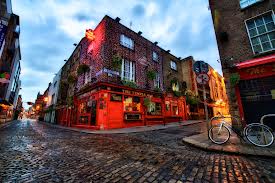 Temple Bar (Irish: Barra an Teampaill) is an area on the south bank of the River Liffey in central Dublin, Ireland. Unlike the areas surrounding it, Temple Bar has preserved its medieval street pattern, with many narrow cobbled streets. It is promoted as "Dublin's cultural quarter"[citation needed] and has a lively nightlife that is popular with tourists.Click here to visit the Temple Bar's website for more information .
Dublin is the capital of the Republic of Ireland and is Ireland's largest city. It is located on the east coast of Ireland, overlooking Dublin Bay. Dublin City is surrounded by the greater Dublin area or Dublin County, where the visitor can find an abundance of picturesque seaside villages, rolling mountains and rural hinterland, all within half an hour of the city center.
(Visited 49 times, 1 visits today)