People wait eagerly for summer, as it is the time for vacation. If you are wondering where to go on holiday this summer, you may consider Sardinia.
Sardinia is a Mediterranean Island that is well-known for its stunning beaches and historical monuments. In fact it is the second largest island in the Mediterranean Sea. It is an autonomous region of Italy.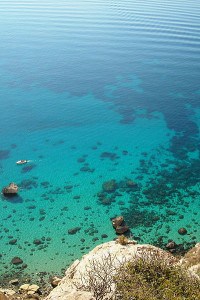 Sardinia attracts many tourists from all parts of the world. If you are in Sardinia, you must take a boat trip to its famous hidden coves and outlying islands. Visit to Sardinia's rustic interior is an amazing experience. You will enjoy the hiking experience. It is a great opportunity to enjoy traditional home made fare.
Here are some major tourist attractions in Sardinia:
Costa Smeralda
Costa Smeralda is a famous coastal area that attracts tourists with its pristine beaches, turquoise water and untouched nature. Located in northern Sardinia, this region is also well-known for its stunning architecture, wellness centers, luxury hotels, exciting nightlife, designer boutiques and world-class restaurants.
Teatro Lirico di Cagliari
Teatro Lirico is an opera house located in Cagliari. In fact it is the main theatre in the city. It has permanent choir and orchestra; and promotes prestigious seasons of chamber and symphonic music, opera and ballet throughout the year.
Giants' Grave
Known as Tomba dei gigantic, Giants' Grave is a type of Sardinian megalithic gallery grave built during the Bronze Age by the Nuragic civilization. It is a remarkably well-preserved monument.
Arcipelago di La Maddalena National Park
This wonderful geomarine national park is located on the coast of Sardinia. It covers an area on land and sea of more than 12,000 hectares. You will find beautiful beaches here. Hire a boat and explore the uninhabited islands. Many people come here to just relax on the café au lait sands of SpalmatoreBeach.
Tirso
Tirso is the most important river in the island of Sardinia. This 152 km river rises from the plateau of Buddusò and flows from east to west. It merges with the sea in the Gulf of Oristano.
How to reach Sardinia?
By air:
Sardinia has airports in four cities: Alghero, Arbatax, Olbia and Cagliari. Meridiana, Volare, Alitalia, Air One and Ryanair have flights to this island.
By ferry:
You also have the option of reaching Sardinia by a ferry. Civitavecchia, Genoa, Livornio, Piombino and La Spezia are the popular ferry connections. It is a good idea to book a cabin on overnight boats; that is if you are looking to save the cost of one night's stay in a hotel. Food and drinks are available on all the ferries.
Sardinia is safest tourist destination in Italy. However, it is advisable to be wary of game hunters during the September-February period. Check with locals for legal hunting dates. Avoid hiking in the wild during these days. It is a good idea to be aware of protected areas.
Sardinia is a paradise in the Mediterranean region. Visit to this amazing summer destination will definitely be etched in your memory for a long time.