Northern Ireland is a part of the United Kingdom. The region has a temperate maritime climate and is well-known for its natural beauty. Belfast is the capital and the largest city in Northern Ireland. It has an international airport and is well-connected with the rest of the world. Derry, Lisburn, Newtownabbey and Bangor are other cities in Northern Ireland.
Here is a brief overview of some famous tourist places in Northern Ireland.
Giant's Causeway
Giant's Causeway is the result of a volcanic eruption. This World Heritage Site comprises tens of thousands of interlocking basalt columns. This wonder of nature is located in the Antrim County on the northeast coast of Northern Ireland. It is the most popular tourist attraction in Northern Ireland.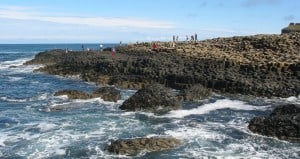 (By Man vyi (Own work (own photo)) [Public domain], via Wikimedia Commons)
Belfast
Belfast is the economic engine of Northern Ireland. The Northern Ireland War Memorial, The Crown Liquor Saloon, The Grand Opera House, Ulster Hall, Odyssey and Ulster Museum are some popular tourist attractions of Belfast.
Dunluce Castle
This medieval castle was built in the late middle ages (1300-1500). Currently it is in ruins. Located in the Antrim County, this castle is surrounded by steep drops on either side.
Lough Neagh
This large freshwater lake is located 20 miles to the west of Belfast. Covering an area of around 392 sq km, it is the largest lake in the British Isles. You can indulge in water sports and many other activities like fishing, boat rides, cycling, golf, horseback riding, skiing, shooting and paintball.
St.Anne's Cathedral
This sacred cathedral was consecrated in the year 1904. You can find the largest Celtic Cross in Ireland here. This cathedral held a memorial service shortly after the sinking of Titanic.
Ulster Museum
Located in Belfast, this beautiful museum features treasures from the Spanish Armada, collections of fine art and applied art, ethnography and archeology. It is the largest museum in Northern Ireland.
 Rathlin Island
This isolated island is off the coast of the Antrim County and is at the northernmost point of the Northern Ireland. If you are seeking peace and tranquility, away from the city life, this is the ideal place for you.
Northern Ireland is well-known for the warmth of its people and its unique and beautiful cities. Visit to Northern Ireland is a memorable experience.
If you are looking for more ideas check out our other website things to do in northern ireland
If you are a frequent traveller or enjoy blogging about your holidays and other subjects and would like to make money doing so Click On The Link Below