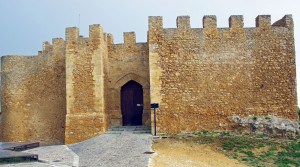 On a recent trip to Sicily, Sharon Preston visited the magnificent Naro Castle that dates all the way back to the Middle Ages
Naro is a picturesque area in the province of Agrigento on the island of Sicily which we explored at leisure one day on a recent visit to the island. The town of Naro itself has been around since the Middle Ages and we enjoyed a visit to its medieval castle, which is located on a site that dates all the way back to Roman times. When the town was founded, the district of Naro was an important centre in the region, so it has a lot of historic significance.
In the present day, Naro is an agricultural centre, but its ancient castle remains as a reminder of days gone by. It was built in the 14th Century by the famous Italian Chiaramonte family – for this reason it's also known as Castle Chiaramontano. And the hill on which it is located, which has been inhabited since Roman times, used to be called Mount Agragante.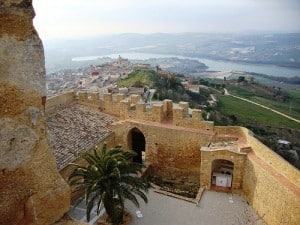 Although the castle has been refurbished and remodeled over the centuries, we were able to see some of the original parts of the structure, including the walls with battlements and the square tower built by Frederick the Second of Aragon. On the tower's eastern side are two typical Gothic mullioned windows that light up the interior of the great Prince Hall, which is located on the first floor of the tower. And seeing the great hall was truly a highlight of my visit there.
The entrance is a pointed arch flanked on either side by a rectangular bastion and inside the walls is a large courtyard with a well in the centre. Underneath it is a large carved cistern that was sometimes used as a prison. In its heyday, the courtyard also contained accommodation for the garrison, a chapel and stables.
There's quite a lot to see inside the castle, which was declared a national monument in 1912. It's been magnificently restored and two levels of the Aragonese Tower are home to a museum and a restoration workshop which we enjoyed exploring at leisure. In the museum itself I particularly enjoyed seeing displays of dresses worn by local noblewomen between the 19th and early 20th Centuries.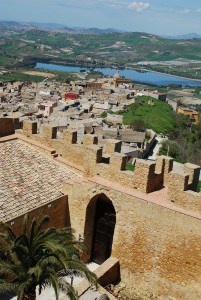 We also got to see the boundary wall and walk along the ramparts – and I must tell you, the view from up there is quite spectacular, so make sure you have your camera on hand. And then we explored the interior of the castle, which was great fun. All in all, we had a great time exploring this ancient castle and I highly recommend it to anyone who is visiting Sicily this summer.