Malaysia is located in Southeast Asia. Kuala Lumpur is the capital of this beautiful nation. Malaysia is multi-ethnic and multi-cultural. Located in the tropical region, this diverse country is the home of many species of wonderful flora and fauna.
Here is a brief overview of popular tourist attractions in Malaysia
Petronas towers
Also known as the Petronas twin towers, these twin skyscrapers stand as a symbol of modern Malaysia. Located in Kuala Lumpur, these towers were designed by Argentine architect Cesar Pelli.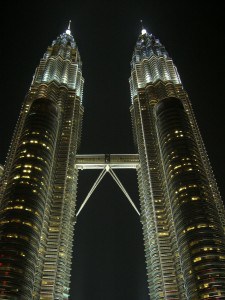 Mulu Caves
These spectacular caves are located within the Sarawak's Gunung Mulu National Park. A chamber found in one of the caves was so big that it could hold about 40 Boeing 747 airplanes
Taman Negara
This national park gives you the typical "tropical forest" experience. You can find huge trees and many waterfalls here. Taman Negara is well-known for its long canopy walkways.
Mount Kinabal 
It is the highest mountain peak in Malaysia and is a World Heritage Site. The mountain and its surrounding areas house 4500 species of flora, 326 species of birds and 100 species of mammals. Rope ascending, rappelling and trekking are popular activities here.
Tioman
This small island is located off the east coast of Peninsular Malaysia. This dragon-shaped island is located within the Mersing Marine Park. This densely forested island is surrounded by beautiful coral reefs. Scuba diving is a popular activity in these regions. People who do it travel to Tioman
Sepilok Rehabilitation Center
This Orang Utan rehabilitation center opened in 1964 to rescue orphaned baby Orang Utans. These wonderful creatures are trained to live in the jungle and are released to their natural habitat as soon as they are ready.
Langkawi
Located in the Andaman Sea, Langkawi is an archipelago of around 104 islands. Surrounded by beautiful turquoise sea, the island comprises paddy fields and forest-clad hills
Perhentian Islands
These beautiful islands are well-known for their palm-fringed white sandy beaches and turquoise sea. You can indulge in scuba diving. These islands house significant population of turtles.
Cameron Highlands
These beautiful hill-stations are famous for their trails which lead tourists to beautiful waterfalls and other wonderful locations. Tea factory tours are popular among tourists visiting this biggest and most popular hill-station in Malaysia.
Malaysia is a beautiful country. Visit to Malaysia is sure to be etched in your memory for a long time.
If you are a frequent traveller or enjoy blogging about your holidays and other subjects and would like to make money doing so Click On The Link Below