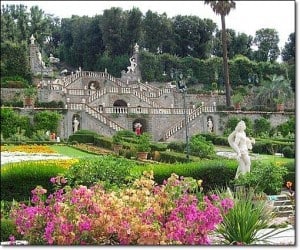 On a recent trip to Italy, Sharon Preston visited the magnificent butterfly-filled garden surrounding the ancient Villa Garzoni in Montecatini Terme
One of the most popular sights in Montecatini Terme is the magnificent garden that surrounds the ancient Villa Garzoni, a palace built by the Garzoni family during the 17th Century. The gardens are famous all over Europe as they are quite spectacular and feature a number of water features, terraces, geometrical flowerbeds, staircases and statues. They are also home to some of the most beautiful butterflies I have ever seen.
In fact, the exquisite gardents are one of the gardens' main attractions and whilst you're exploring, you'll see hundreds of them flying around. There are around 800 butterfly species from all over the world found in the gardens, and they all live in the Collodi Butterfly House, which was the first Butterfly House to be established in Italy. It was opened in 2007 by the Carlo Collodi Foundation, hence its name.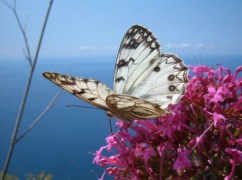 The Butterfly House contains different habitats that mimic the temperatures and terrain of various regions around the world, including the Amazon, the tropical African jungle and Indo-Australian regions. And there in the Butterfly House, these exquisite specimens breed, feed and court each other, just like they do in their own habitats.
The Butterfly House is actually a garden within the magnificent Garzoni Garden, and it contains special rare plants that duplicate the eco-systems and natural habitat of the various butterflies. When we visited, we learned everything there is to know about butterflies and saw every one of the butterfly's developmental stages, including eggs, caterpillars, pupae and butterflies. We also saw a number of exquisite butterflies up close, some with wings boasting the most extraordinary colours and patterns.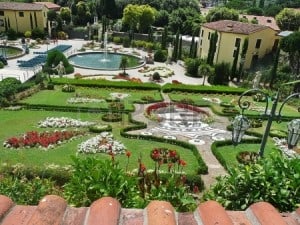 It was so fascinating to explore another world inhabited by such fragile, beautiful creatures. We learned that butterflies actually have a complex pattern of social behaviour and found out all about how they socialise and interact! The Butterfly House also contains a centre where rare species of insects and ants are displays. But I found the butterfly displays the most fascinating, and I spent most of the time I was there watching them.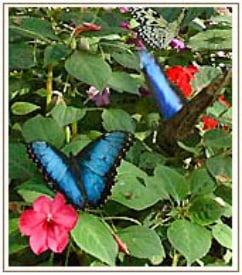 I was amazed at the amount of detail and work that went into creating the exact eco-systems necessary for the butterflies to survive. These butterflies require special mineral salt nourishment in the soil, as well as particular plants that produce flowers that will nourish them, and the correct lighting, shade and temperature. It's all very complicated, actually. But it was worth all the work that they have put in. To see these magnificent creatures up close, enjoying their home, was something I will never forget.