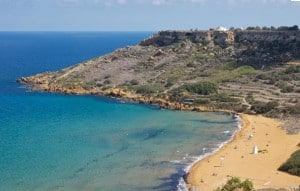 The island of Malta offers a variety of different beaches to suit every taste, whether you enjoy lazing in the sun, or taking part in various water sports, such as windsurfing, jetskiing, waterskiing and wakeboarding, as well as pedalo boats, parasailing and kayaking. On this resort island, you'll find popular beaches filled with holidaymakers, and ones further afield that are best kept secrets just waiting to be uncovered.
A number of beaches in Malta offer excellent swimming. Two of the safest swimming beaches are the man-made sand beach called Bugibba Perched Beach and St Georges Bay, right next to Paceville. For the best swimming on the island, head for Ghain Tuffieha or Riviera Bay in the north-west of the island. This secluded sandy beach forms part of a string of bays that all offer excellent swimming opportunities. Golden Bay is Malta's largest and most popular beach and there's also Qawra Point, a small sand and rock beach next to the Qawra promenade, which is not only great for swimming but also popular for snorkeling.
In fact, snorkeling is very popular all over Malta, particularly at Golden Bay, Paradise Bay, Gnejna, St Paul's Bay and Comino's Blue Lagoon. One can purchase or rent snorkeling equipment around the island, and if you would like a guided snorkeling adventure, you can hire a trained guide to help you explore Malta's magical underwater world.
If you're really adventurous and want to explore deeper, there are numerous scuba diving opportunities available. Malta is known for its historical shipwrecks, and there are other sites you can explore to see a variety of marine life. Diving excursions are offered all over the island, and you can easily rent the equipment when you book a day excursion.
The best place to go waterskiing is the area around Gnejna Bay on Malta's north-west coast, as well as St Julian's, Qawra and Little Armier Bay on the northern tip of Malta. The island is also a paradise for windsurfers, who flock to Mellieha Bay, Ghallis Rock near St Julian's and St Thomas Bay.
Jet skiing to explore Malta's coastline is also very popular and the best way to discover secluded beaches and caves that are only accessible from the sea. The best places to jet ski are St Julian's and Mellieha.
Sea kayaking is also very popular and enables one to explore the coastline in a canoe. Golden Bay and Mellieha Bay are very popular choices for this.
Although the waters are very calm around Malta, there are a few areas where beginners and experienced surfers can enjoy the sport. The most popular are Golden Bay, Mellieha Bay, Imgiebah, St Thomas, and Ghain Tuffieha. However, if you're planning to surf here, you will need to bring your surfboard with you.
Another popular adventure is sailing around the island. You can rent a boat for the day and explore the spectacular coastline, which is a treasure trove of hidden bays, secluded beaches and caves just waiting to be explored.