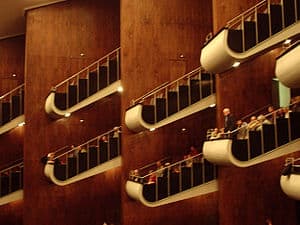 One of my favourite locations in Cologne is the city's iconic Opera House. Here I share some information about it…
Cologne is a city of opera lovers. The city's residents have enjoyed opera here since the mid 18th Century. In fact, the first permanent opera company here was established in 1822 and performed in the Theater an der Schmierstrasse, which was built in 1783 and used for concerts, plays and opera.The first opera house to be built in the city was the Theater am Habsburger Ring, built in 1902 by the city. It was badly damaged during the Second World War, so opera was performed at the University of Cologne until a new building was built. In fact, the opera company also used to perform in the repaired Glockengasse and Habsburger Ring theaters too.
The current Cologne Opera House is the first modern music building to be built in Europe after the Second World War. It was designed by the German architect Wilhelm Riphahn and it was inaugurated in 1957 by the former mayor of Cologne, Konrad Adenauer, who was Chancellor of Germany at the time. The first opera to be performed here was Oberon, created by Carl Maria von Weber.
The opera house seats up to 1 300 spectators and the orchestra pit accommodates 100 musicians. This magnificent building has been designed so that wherever one sits in the audience, the stage is visible and the acoustics are excellent. The Opera House is home to a resident opera company that performs approximately 25 different operas during the regular season, which runs from September to June.
The Opera house is also part of an arts complex that includes the Cologne Playhouse, built in 1962 and also designed by Riphahn. Both theaters were recently extensively refurbished.
The Cologne Opera company is famous for producing the highest quality children's operas in the world. And in addition to producing classical performances, it also produces operas from the 20th Century. The Cologne Opera House also hosts dance performances. We suggest you find out what is showing while you're in town, as it would be a great opportunity to attend a performance of either opera or dance in one of the best opera houses in Europe.
(Visited 59 times, 1 visits today)