Top Places To Visit In Croatia
Croatia is a very interesting country to visit. It attracts more and more tourists every year. For  many people, Croatia is still unknown country. The climate is very nice, with warm summers and snowy, but not so cold winters. Many civilizations ruled over Croatia during history and all of them left unique historical and cultural monuments from Greek and Roman times to Renaissance, Baroque, and modern days. This journey will be by geographical order of appearance from the south to the north of the country.
A Walk Around Dubrovnik Walls
Dubrovnik is often considered as the most attractive and most beautiful Croatian city. And for sure is. This awesome city has a long rich history and was even independent state-city for centuries. To protect the city, locals built unique Dubrovnik Walls which are today top Croatian tourist attraction, protected by UNESCO. You can notice visitors from all over the world which walk on the main street called Stradun. During summer, Dubrovnik offers a first class festival of culture and arts called Dubrovnik Summer Games from remarkable artists and performances from main European opera and theatre houses.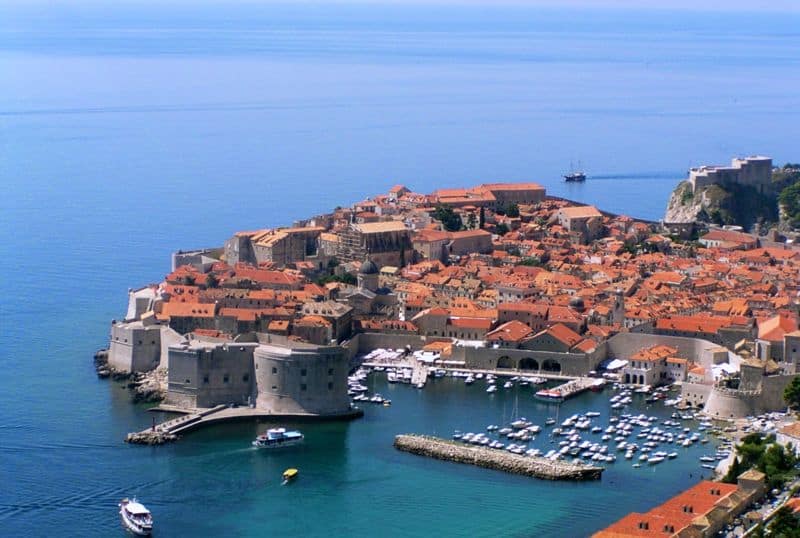 2 . Party with Celebrities in Ancient Hvar
Croatia is a country with more than a thousand islands and for sure one of the most interesting is an island of Hvar. The biggest city on this island has the same name. It is the city of very long and rich history. The climate is very suitable and offers the biggest number of sunny days in Croatia. Locals like culture which is easy to realize from the fact that Hvar is the home of the oldest civic theatre in Europe. Last years Hvar is transforming to the elite tourist resort which attracts even the biggest stars from the world of music and film like Beyonce, Brad Pitt or George Clooney. But Hvar is still affordable for any type of tourists so during summer days, you can notice local people, backpackers and music stars having great time together.
Sunbathing On Golden Horn Beach
If you like sandy beaches, this is the right place for you. Golden Horn Beach is the most beautiful beach in Croatia. It has unusual, the strange shape of horn, which is even changing over time due to waves and winds. This beach is also on the island, but this time is the island of Brac and beach is near the village of Bol. Many people enjoy in the sea, sun and various sports like sailing or diving. If you don't like strong sun, you can hide in pine tree forest, which smells really nice.
Sightsee Roman Palace and Admire Beautiful Women in Split
The Roman emperor Diocletian who was very cruel to Christians was born near city of the Split and after he retired, what was unique example among Roman emperors decided to build a palace for his old days. The Diocletian Palace is today many city centre of Split. Locals think that Split is the most beautiful city in the world and also the craziest city in the world. There are so many interesting people from Split. Some became world-class sportsmen or creative musicians. Girls are very tall, slim with long legs wearing casual but fashionable clothes. Some of them achieved top places in various international beauty queen pageants.
5 Travel in Boat Between Hundreds of Islands in Kornati National Park
We mention before that Croatia is a country of so many islands. This is the best seen in Kornati National Park which consists of many islands which are mostly not inhabited, lonely and usually don't even have trees. But they are so beautiful in their unique way and there are so many of them on little area. Probably the best way to experience beauty of Kornati National Park is from air but great way is travelling in a boat or yacht between island or to rest and swim in dark blue transparent sea.
6 Watch Awesome Plitvice Lake Watterfalls
Plitvice Lakes National Park is situated in region of Lika where are many natural attractions and the top of them are Plitvice Lakes.  On this Lakes are many amazing, fabulous watterfalls.  Deep forests with rich animal life and colorful meadows offer more natural pretiness. It's possible to enjoy in various activities like hiking, cycling or discovering tastes of local food. Plitvice Lakes are in the center of continental and coastal areas of Croatia. Numerous wooden signposts warn that you pass by something special and you need to stop and find time to visit and enjoy in this unusual, fascinanting landscape.
7 Make Photos in Romantic Old Town of Rovinj
There are so many great seaside little towns on Croatian Adriatic and Rovinj is among best of them. Rovinj is the most popular Croatian tourist destination and the most photographed South-Eastern European city. Old Town is fascinating and full of interesting facts. Rovinj is ideal for walking, cycling and making photographs and is a very romantic city. Golden Cape is a wonderful park very close to beach and is easy to fall in love with it. There are nice shops with quality art, and at the market you can find a variety of wine, olive oil, honey, truffle products.
8 Enjoy culture in Zagreb, capital of Croatia
Zagreb, the capital of Croatia is located on the slopes of Medvednica Mountain next to Sava River. The city has rich cultural life with many theaters, museums, and art galleries. The movement of artistic life is very active here. Zagreb is an important city for the animation. It has its own style of animation called Zagreb School of Animation and popular International Festival of Animated Film which is an opportunity for many leaders of animation around the world to meet. The art collection of Ante and Wiltrud Topic Mimara, better known under the name Mimara Museum according to the historians could be the largest collection of fake masterpieces of art.
9 Come to the Centre of the World in Ludbreg
Town of Ludbreg (name means "Crazy Hill") according to a legend is considered to be the center of the world. And really many of the cities in the world are on the concentric circles whose center is just in Ludbreg. On the main square is a point that represents the center of the world. Ludbreg has been known for centuries as a place of pilgrimage and is visited every year by thousands of pilgrims because local church has relic of Sacred Christ's Blood after the eucharistic miracle, which happened in 1411 and was confirmed by Roman Pope.
Top Places To Visit In Croatia