No 1 Surf Spot in the Dominican Republic
"Everybody's gone surfing, Surfing USA." – The Beach Boys.
When you think about surfing what comes to mind?
For many people the places that usually come to mind are California and Hawaii. Maybe even Antarctica with the teenage surfing penguin Cody from Surf's Up.
While I wouldn't recommend surfing in Antarctica, it is a bit chilly, there are plenty of great surf spots around the world that can help you scratch that itch to surf without going broke taking a vacation in Hawaii or California.
Sorry Beach Boys, not everyone can afford to surf in the USA.
Dominican Republic Surfing
The Dominican Republic is a surfing hot spot that is quickly growing in popularity and taking a vacation here costs a fraction of the price of a Hawaiian or Californian vacation.
Besides being much, much cheaper than many other surf spots, there are great reasons to take your surf vacation in the Dominican Republic.
We get great waves year round.
During the Dominican Republic's freezing winter, the average temperature is a bone-chilling 75 °F.
The short story, while the rest of the world is bundled up trying to stay warm, we are here in our swim trunks enjoying the warm Caribbean Sea.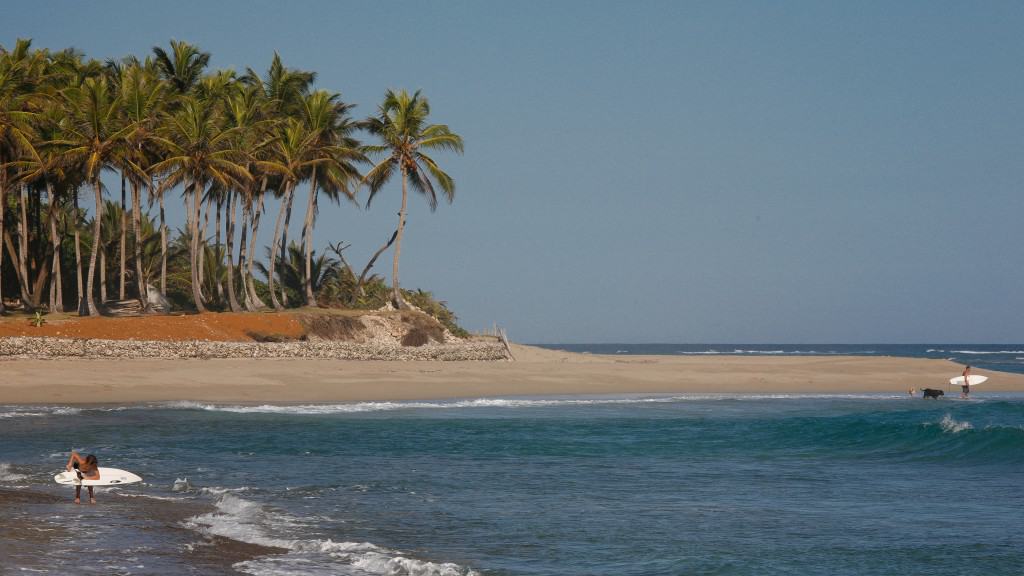 #1 Surf Spot in the Dominican Republic
Then, comes the question: Where in the Dominican Republic is the best place to surf?
There are tons of great surf spots here, but without a doubt, the surf capital of the Dominican Republic is Cabarette.
If you have never surfed in Cabarette, I would recommend starting your surfing vacation at Encuentro beach in Cabarette. This is a great beach with some of the most consistent waves around. There you will find a little bit of everything. Sections of beach for beginners and other areas for experienced surfers.
First Time Surfers
We will start out with you beginners.
If you are a first timer, don't worry, there are a number of surf schools right in the vicinity of Encuentro beach. Your surf instructor will likely take you to the right side of Encuentro beach first. This is the best area of the beach for beginners.
Every once and a while this area of the beach will get waves up to 10' or 15', but for the most part this area of the beach is mellow and great to learn on.
No1 Surf Spot in the Dominican Republic