What To Eat On A Holiday In Greece?
As someone whose dad was from Athens and we owned a number of Greek Restaurants I thought this was a post I had to make sharing some of our family's favourite Greek Foods that you should try when in Greece for a holiday.


Kalamari – Kalamari is a type of squid dish found in Greek and Mediterranean cuisines. It is usually fried and served with a variety of sauces and accompaniments, such as skordalia(Garlic Sauce), Tahini sauce, or aioli. It can also be served grilled or stuffed and cooked in tomato sauce.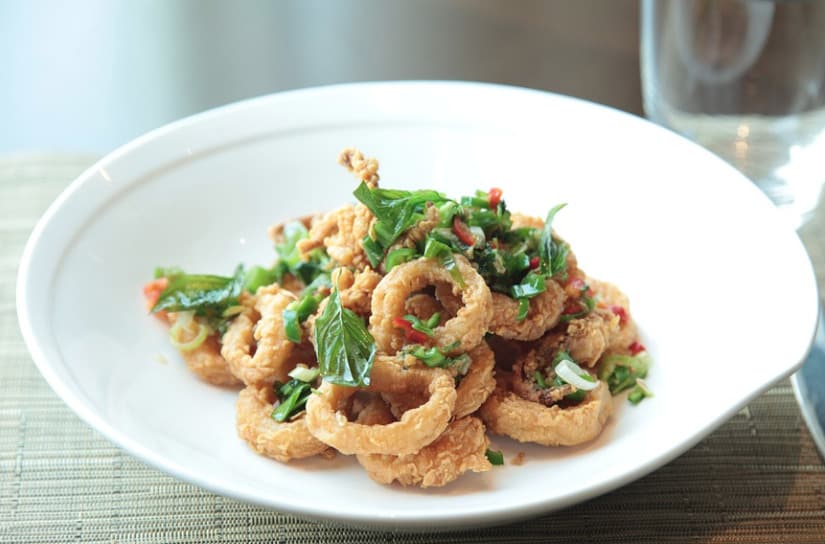 Pork Souvlaki – Pork Souvlaki is a Greek dish consisting of small pieces of marinated pork threaded onto a skewer and grilled over a charcoal or wood fire. It is served as an appetizer or main course, often with a side of pitta bread, tzatziki or yogurt sauce, and diced onions. Vegetables like peppers, onions, mushrooms, and courgettes can also be added to the skewers.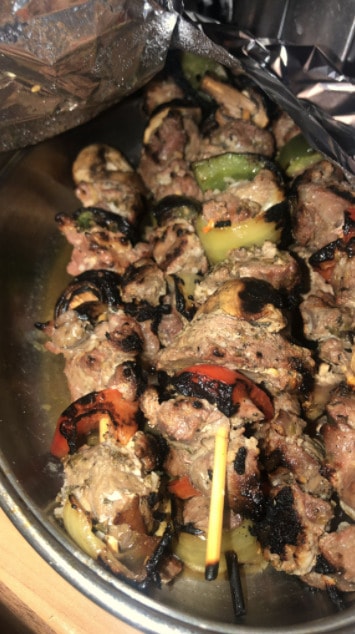 Kleftiko – Kleftiko is a traditional Greek dish that is typically made with lamb served in a tomato-based sauce. It is usually slow-cooked with a variety of vegetables such as potatoes, carrots, peppers, and onion. The name, "Kleftiko," means "stolen meat," as it is thought to be adapted from an ancient Greek method of cooking stolen sheep or goats in underground pit ovens.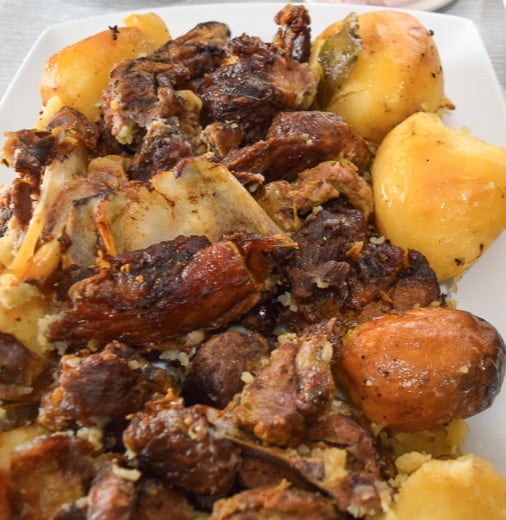 Choriatiki – Choriatiki is a Greek salad. It is typically composed of tomatoes, cucumbers, feta cheese, bell peppers, black olives, and red onion, dressed with olive oil and sometimes oregano and/or vinegar. It is often served with a slice of fresh bread.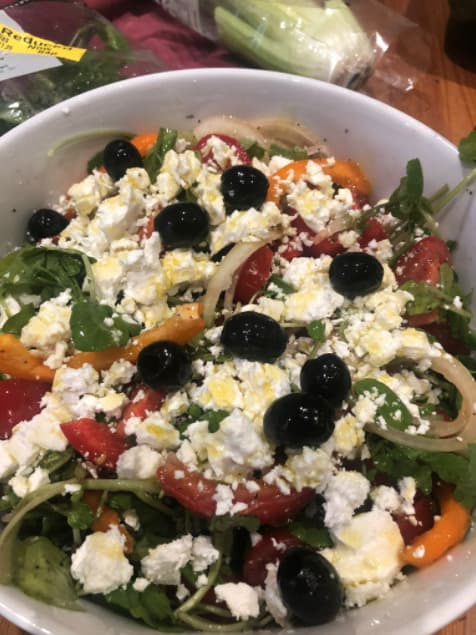 Pork chops with lemon – Pork chops with lemon Greek Style is a traditional Greek dish that involves marinating pork chops in a mix of olive oil, fresh lemon juice, garlic, oregano, and salt. The pork is then grilled or pan-fried until cooked through and served with a generous squeeze of fresh lemon juice, oregano, and crumbled feta cheese.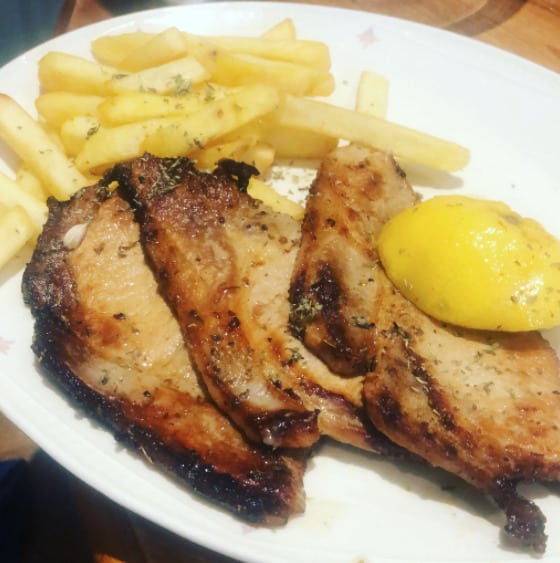 Kotopolou Lemonato – Greek-style lemon chicken is a dish that consists of boneless, skinless chicken thighs that are marinated in a mixture of Greek yogurt, lemon juice, olive oil, garlic, oregano, and salt and pepper. The chicken is then baked in the oven until crispy. The dish is served with lemon wedges and Greek-style rice or potatoes.
Moussaka -Moussaka is a classic Greek dish, typically made with layers of eggplant, ground meat, and a creamy béchamel sauce. It is typically served as part of a meze platter or as a main course.
Dolmadakia – Dolmadakia are a type of Greek dish consisting of grape leaves stuffed with a savory mixture of ground beef and rice, and sometimes various spices including parsley, mint, dill, and onion. They are usually served as an appetizer.
Hummus – Hummus is a variation of the traditional hummus dip, made with Greek-style ingredients like Kalamata olives, feta cheese, oregano, lemon juice, garlic, olive oil, and tahini. It is usually served as a dip for pita bread or vegetables.
Tzatziki -Tzatziki is a dip or sauce used in Greek and Middle Eastern cuisines. It is made with strained yogurt, cucumber, garlic, olive oil, and herbs like dill and mint. It is served as a condiment or cold appetizer.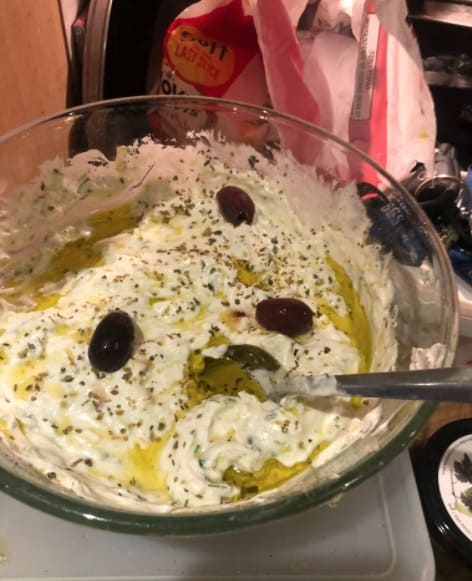 Skordalia – Skordalia is a traditional Greek dip or spread made with garlic and mashed potatoes, soaked bread, and olive oil. It is usually eaten with fish, vegetables, bread, and other dishes. It is a popular accompaniment to grilled fish and can also be served as a dip for chips.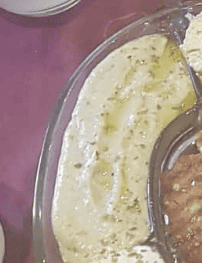 Melitzanosalata – Melitzanosalata is a Greek eggplant dip. It is usually made from peeled and mashed eggplant mixed with olive oil, garlic, freshly squeezed lemon juice, and a blend of herbs and seasonings. It is usually served cold with toasted pita bread or crackers as a side dish or appetizer.
Taramasalata – Taramasalata is a Greek dip made from cured, salted fish roe (roe is the mass of fish eggs), blended with olive oil, lemon juice, breadcrumbs, and usually onion or garlic. It is commonly eaten as part of a mezze platter or as an appetizer. The dip may also be served on its own as an accompaniment to bread and other snacks.
Pitta bread – Pitta is a type of flatbread made from wheat flour and water. It is usually served with various dips or topped with vegetables and herbs. It is a popular staple of Greek cuisine and can be found in supermarkets and bakeries all across the country.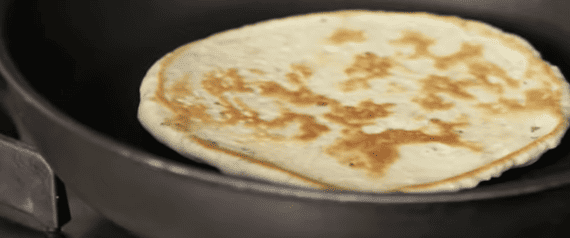 Roast lamb and potatoes – Greek Style Roast Lamb is a delicious oven-roasted meal that is made by marinating the lamb in a mixture of several Mediterranean herbs and spices like garlic, oregano, rosemary, and mint and then roasting it in the oven. The marinade sauce imparts an aromatic flavor to the lamb, which is then accompanied by oven-baked potatoes roasted to golden brown perfection. It is a traditional summer meal served in many Greek households and pairs perfectly with a variety of side dishes such as tzatziki, a traditional Greek yogurt dip, or a traditional Greek salad.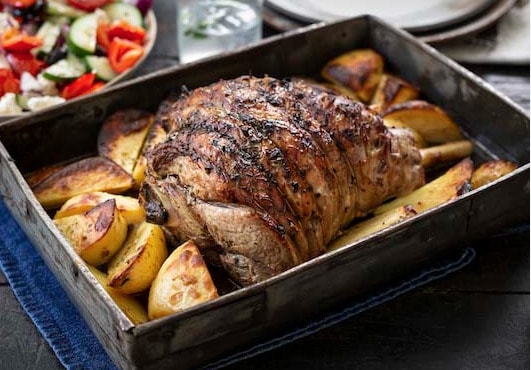 Lamb cooked in clay pots – Lamb pieces cooked in Garlic white wine Feta cheese Oregano and baby tomatoes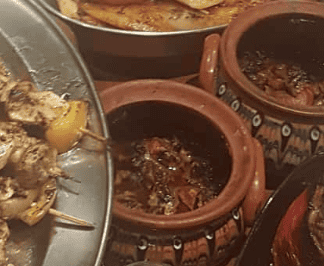 Paidakia – Greek-style lamb chops are hearty, succulent, and full of flavor. They are typically marinated in garlic, oregano, olive oil, red wine vinegar, rosemary, and thyme. The lamb is then browned in a skillet and then baked in the oven until it's cooked through and juicy. Greek-style lamb chops are usually served with tangy tzatziki sauce.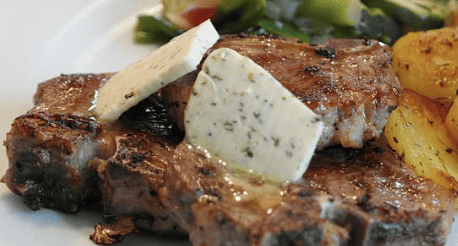 Stuffed aubergines – Fried Aubergines stuffed with mushrooms tomatoes and topped with Feta cheese
Bifteki – Bifteki is a traditional dish from Greece consisting of ground beef and pork rolled into colorful patties and grilled or fried. It is often served with a side of tzatziki, Greek salad, and pita bread.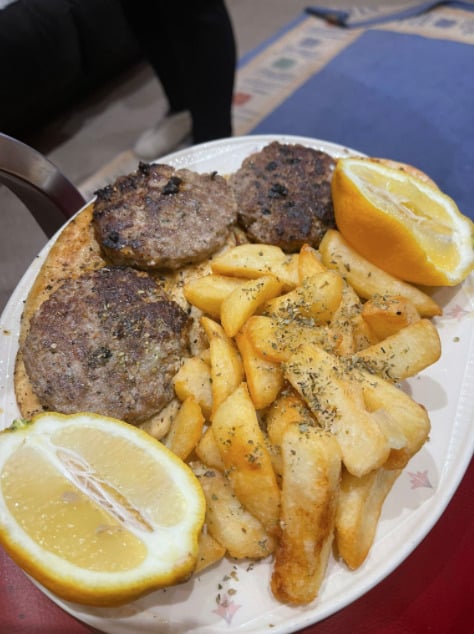 Keftedes – Keftedes are a traditional Greek food made with ground beef or lamb spiced with oregano, mint, and onion, and formed into small meatballs. They are usually fried and served as an appetizer or main dish, often accompanied by tzatziki sauce, fresh tomato sauce, or a yogurt-based dressing.
Greek Bean Soup – Fasolada is a hearty Greek soup made with white beans, tomatoes, olive oil, onion, carrots, celery, herbs, and aromatics. It is a popular soup in the Mediterranean and is often served as a main course.
Red Mullet – Greek Red Mullet is a dish made with red mullet, or red rugula (Greek for 'red fish'). It is usually served grilled, and often with olive oil, garlic, lemon, parsley, and oregano. It is sometimes served with a tomato sauce or a side of vegetables, such as potatoes, gherkins, or okra.
Gemista – Gemista is a Greek dish that consists of vegetables (such as tomato, courgette, pepper, onion, or aubergine) stuffed with a mixture of rice, herbs, and spices, often topped with a tomato sauce. The dish is often served as a main course, although it can also be served as a side dish.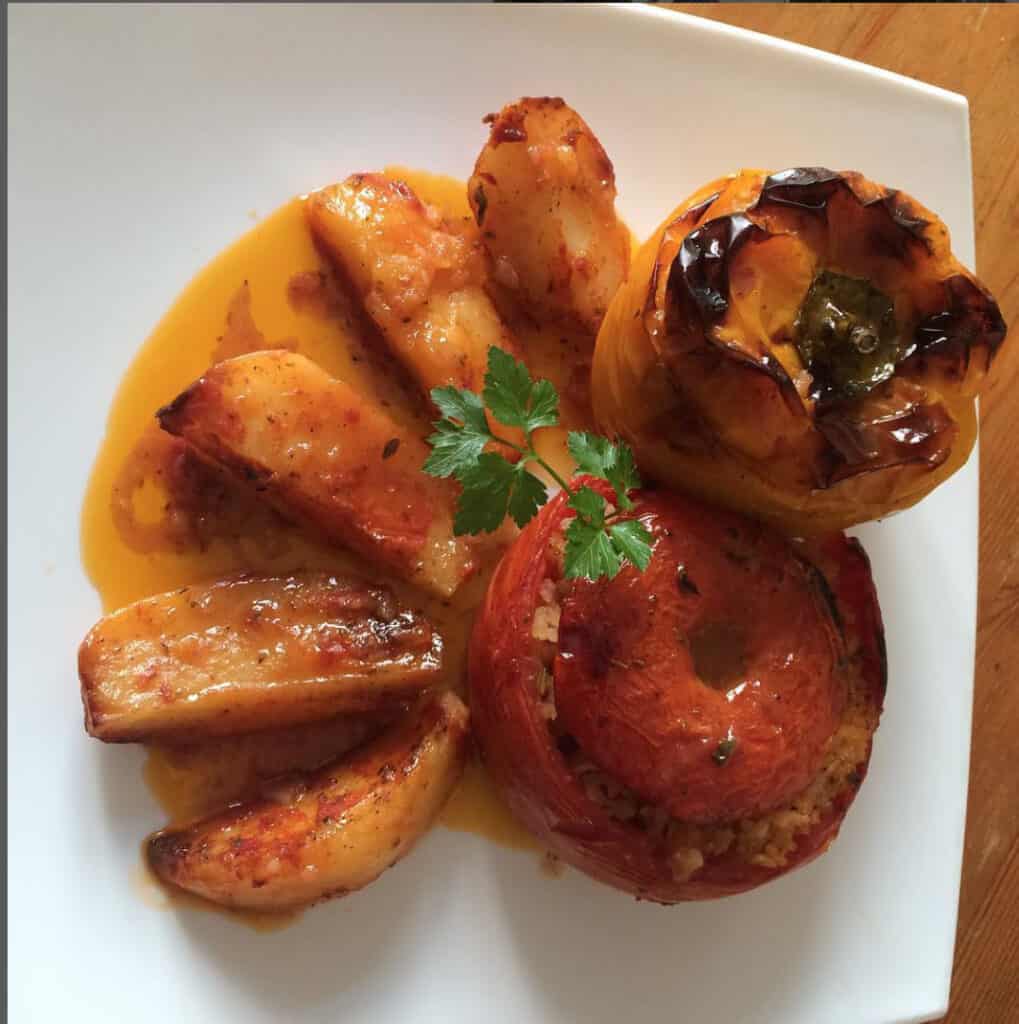 Large Mixed Selection Starter – A large mixed selection of Greek starters including Kalamari (Fried Squid Dolmadakia (Stuffed Vine Leaves) Fried Courgettes Prawns in Batter Hallumi Cheese, Roasted Red Peppers, Hummos,Avocado Dip,Skordalia(Garlic Sauce),Tzatziki And Pitta Bread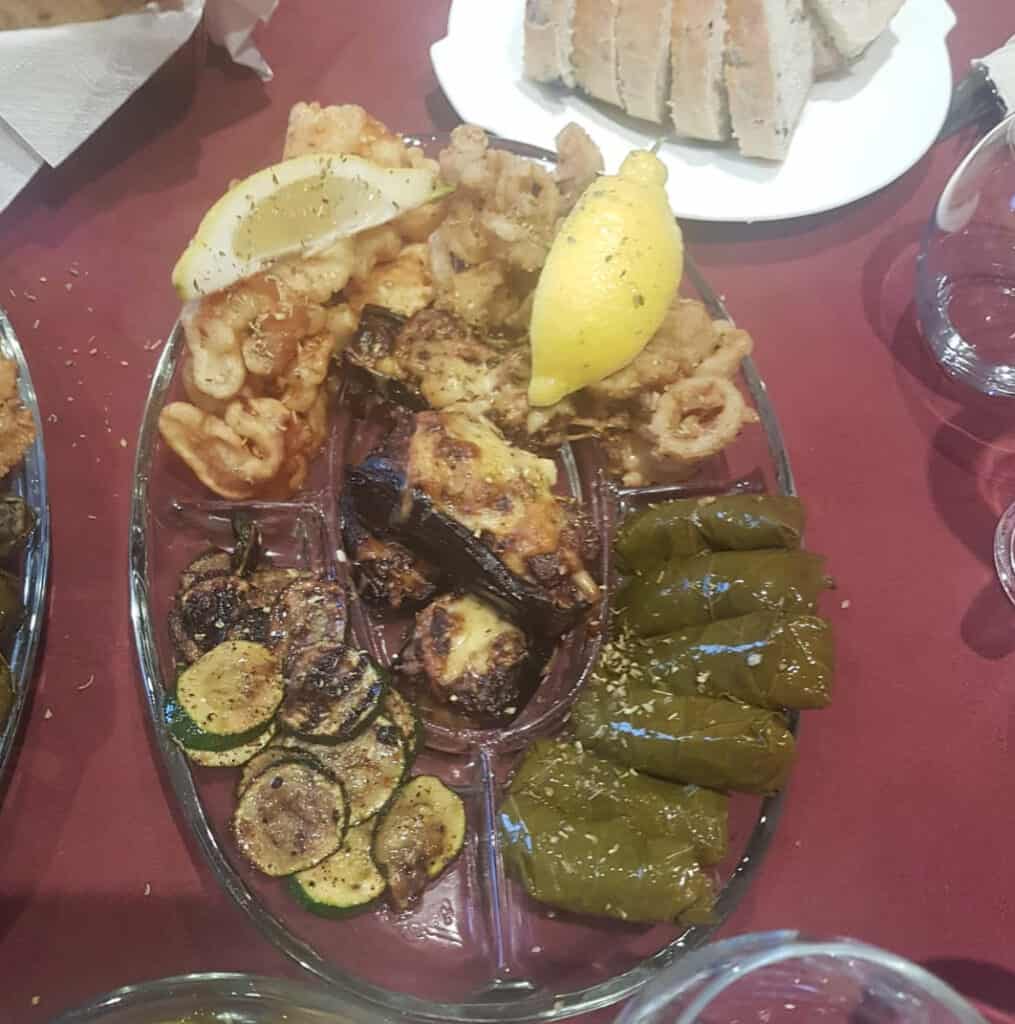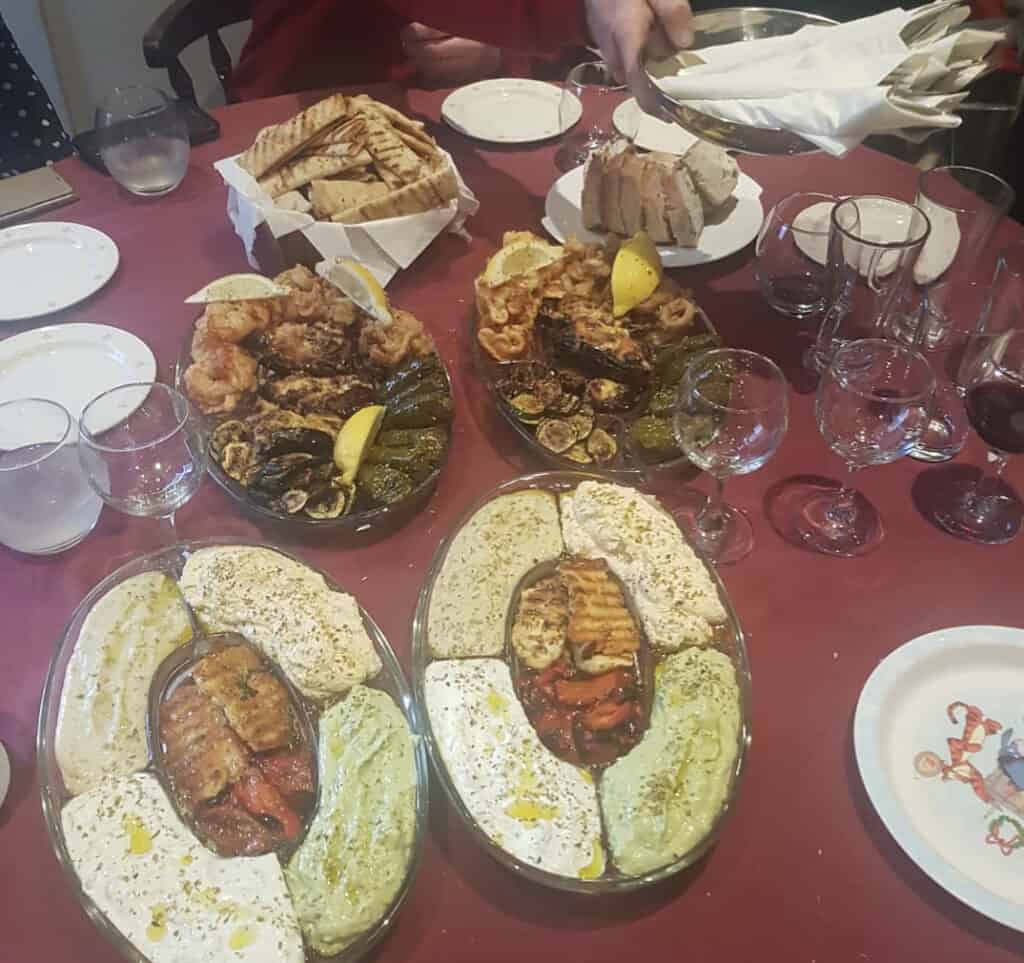 As a chef who worked in two Michelin-star restaurants and whose dad was Greek and owned multiple Greek Restaurants, I thought I would share some of my favorite Greek Foods that you should try when on a holiday to Greece
What To Eat On A Holiday In Greece?