Cypriot food is inspired by the cuisines in neighboring Greece and Turkey but it also has its own very special flavours. In the south of the island, the dishes are very Mediterranean. Fresh lemons and olives are used to add a special flavour to chicken, pork, lamb and fish dishes. In the north, the cuisine has a distinctive Middle Eastern edge. Here, an abundance of herbs and spices, including saffron and paprika are used to give dishes a unique colour and taste. Most foods are served with rice and accompanied by sauces made from yoghurt and tomato.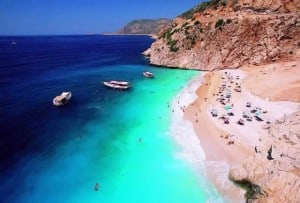 Like Greek cuisine, a Cypriot meal is made up of a series of appetizers, main dishes and desserts. The very best way to sample the island's cuisine is to start with a series of appetizers called Mezedhes, or 'mezze'. This will enable you to sample and savour a variety of delicious Cypriot tastes and flavours. The 'mezze' are very similar to Greek starters and include dips like Tzatziki, which is made from yoghurt, garlic and cucumber, or hummus, which is a blend of chickpeas and lemon. Cyprus is famous for its Haloumi cheese, a soft cheese made from either sheep or goat's milk that is served grilled and can be flavoured with mint.
The most popular main dishes in the south of Cyprus are Afelia, a pork dish that is slow-cooked in red wine with mushrooms, potatoes and coriander, and Kleftiko, melt-in-the-mouth lamb that is roasted slowly for at least 24 hours in a clay oven and flavoured with cinnamon and lemon juice.
Throughout the island of Cyprus one finds a number of delicious main courses, especially Soulva, which is basically kebabs made from lamb, pork or chicken garnished with salt, lemon and oregano and roasted on a charcoal fire. Another favoirite dish is Loukanika, a serving of pork sausages marinated in red wine and seasoned with pepper and coriander. A Cypriot speciality is Tsamarella – dried goat meat in coriander seeds and wine.
The Cypriots have a sweet tooth. They love their desserts and have a number of favourites, including Loukoumades, which are small, very sweet doughnuts made with honey. There's also Finikia, which are walnut cakes and Soutzouko, a pudding made from nuts and grape juice.
Wherever you go in Cyprus, you'll savour an abundance of strong black coffee and wine. Cypriot coffee is freshly prepared using finely ground coffee beans. It's traditionally served in small cups accompanied by a glass of cold water. The island is famous for its excellent wine, beers and spirits. A very popular wine is the sweet dessert wine called Commandari. Ouzo is also a very traditional drink in Cyprus.